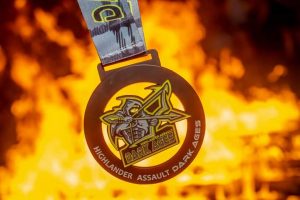 May 14th, 2022 marked the third year that Highlander Assault held Dark Ages, a night race that includes overnight camping and the opportunity to create lasting memories around the bonfire with the racing community. They have continually built on the idea, adding new obstacles and new experiences every year. Last year they added the option to camp overnight on the grounds. Many people enjoyed camping after the race this year, especially because the elite heat started at 10:30 pm.
Something New
Highlander Assault innovated starting the pro wave after the open waves. One benefit is that the elites have the opportunity to run at night, and those (like myself) who prefer to run in the open waves can enjoy running the race and cheering on the competitive division afterwards. First and second place win impressive medieval-era inspired swords.
The Winners
The first wave of the day was the Endurance division, which started at 7pm. Racers had the opportunity to complete as many laps as possible in 4 hours. Power couple Brittany Howard and Leo Armenta won the men's and women's endurance division. They are well known in the Chicago OCR community for training hard and delivering impressive performances on race day. In the elite heat, Robbie Gingerich conquered the competition for the second year in a row. Erin Meyers took home the sword for the Women's Elite. See this link for the complete list of winners and pictures ( https://www.instagram.com/p/CdlUiC4rr5D/?utm_source=ig_web_copy_link ) .
The Obstacles
Highlander Assault really stepped up their game with 25 obstacles this year. The darkness added an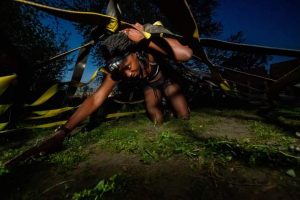 extra exciting element as our headlamps lit the way through trails and over walls. My favorite part was the low rig, affectionately named "The Beard,"  inspired by Aaron Sabia of Race Ready Obstacles. Also, they included their signature rig The Gauntlet designed by OCR Buddy Pro Josh Enderle. The heavy carries included wreck bags, atlas stones, and my favorite- the Highland Games-inspired Caber Carry. The grand finale right before the finish line was Tilt-a-Kilt, which started with a swinging trapeze bar over to 2 monkey bar-style tilting ladders, then ended with 2 rings before the bell. Everyone in the festival area rallied as competitors battled their way through the final, grueling rig.
Final Thoughts
I thoroughly enjoyed running Dark Ages this year, and I'll definitely return for more. If you have never experienced a Highlander Assault race, I highly recommend running one. Their next event will be their flagship day race on October 1, 2022. Racers can choose lengths from 4 miles, 8 miles, 12 miles, or the coveted King Arthur's Challenge, 26.2 miles with 100 obstacles. Find more information about Highlander Assault here ( www.highlanderassault.com ).
Photos by: John Kelly Photos