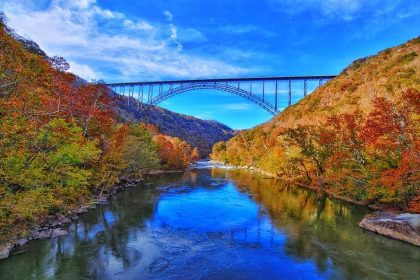 In 2020 the first Rim to River 100 was held; as soon as I heard about this race, I told myself I must do this race. When it was announced, I knew there was no way I could attend the first race as I had other obligations planned for that day. I did know I was 100% going to do it in 2021.  The Rim to River 100 is the first 100-mile race held in West Virginia, and it is held in the New River Gorge area, which has some stunning views and just a great local community vibe. I absolutely love being in this area.  So, registration opens for 2021, and it said registration was open till October. Well, it opened on New Year's Day, and my teammate signed up right away. I told Chris, eh, I have time; I will sign up in a few weeks.
Well, about 3 days later, he texted me and was like, you better sign up now; this is going to sell out most likely by the end of the day. I thought he was joking with me just to get me to sign up early; however, when I checked, he def wasn't joking. There were only 2 spots left. So, I signed up and took spot 249 of 250. Damn, did I get lucky? I didn't want to be on the waiting list at all-cause with those; well, you just never really know. So now that I'm in, we secured lodging at "The Cabins at Pine Haven" in Beaver, WV, about a 40 min ride away from the start line. We have stayed here before and love this little place with all the log cabins and treehouses. We started to get a training plan together over the season, talk logistics, and all that fun ultra-stuff we all dwell over in our minds nonstop before races.  The training was ok for me; I admit I'm not someone who trains nonstop or goes all out. I did my regular training with like 3 50k's in there.
Up until going to this race, the longest distance I have completed was a 100k.  Coming up to two weeks to the 2021 race, I was feeling good physically and mentally. I was on point. I told my wife, family, and friends that I'm only coming off this course for 2 reasons, I miss a cut-off for some dumb reason, or I physically can't move. Other than that, I'm going to keep going. I wanted this race and this buckle so bad I could freaking taste it. As a runner, I am no longer the fastest person out there, but I can get it done in respectable times. My biggest strength, hands down, is my mental toughness, and I knew that a race like this, that was going to help me out big time.
So, on Thursday 11/4, my wife, daughter, dog, and I started the six-and-a-half-hour drive down to West Virginia from PA. I had so much gear and just "stuff" packed for this race that it looked like I was going on an expedition to climb Mt. Everest. It was overkill; to be honest, however, I'm one of those people who would rather have something and not need it than need it and not have it. Plus, a lot of it was for my crew which was my wife and daughter that way, they had anything I could ask for, even if it was dumb. We settled into our cabin, and I wanted to get all my drop bags together and have everything ready for Friday afternoon when we would head to ACE Resort for bib pick up and the athlete meeting.  We drove into Fayetteville the next day and grabbed lunch at Pie's and Pints with my teammate and his family. If you have never eaten you here, damn, are you missing out? It's a must-stop for my family when down in this area. Anyway, we headed down to ACE Resort and picked up our bibs, checked out some vendors, and bought some race swag.  Handed in my 2 drop bags which would be for Cunard and Fayette Aid Stations.  To me, these two made the most sense as we would be hitting both aid stations twice.  We went into the bar area and grabbed a seat, waiting for the prerace meeting to start.  The Race Director for this event was Bryant Baker and run by the Rim to River Endurance Company.  As a race Director myself and someone who does athlete meetings before all of my races, I loved the fact they were doing this, and the RD told us this was the first one as they didn't do one last year.  It was great to have our RD explain the course and rules and crew and pacer pickup areas.  It really made the leading up to the race a lot calmer for me. I am someone who studies course maps, elevation maps, rules everything. I do this for many reasons, but the biggest reason is I can't wear my glasses when they run, and my eyesight is so jacked up contacts aren't an option. So, when I run, it's basically running half-blind. So, knowing specific points on the maps really helps me out a lot with staying on course. Meeting over and time to head back to the cabin and get some sleep and just relax in the hot tub. I got a solid 5 hours of sleep and had some crazy dreams about the race. One of which I beat Caleb Bowen by an hour and took the overall w; like I said, some crazy dreams cause that sure as hell was not happening.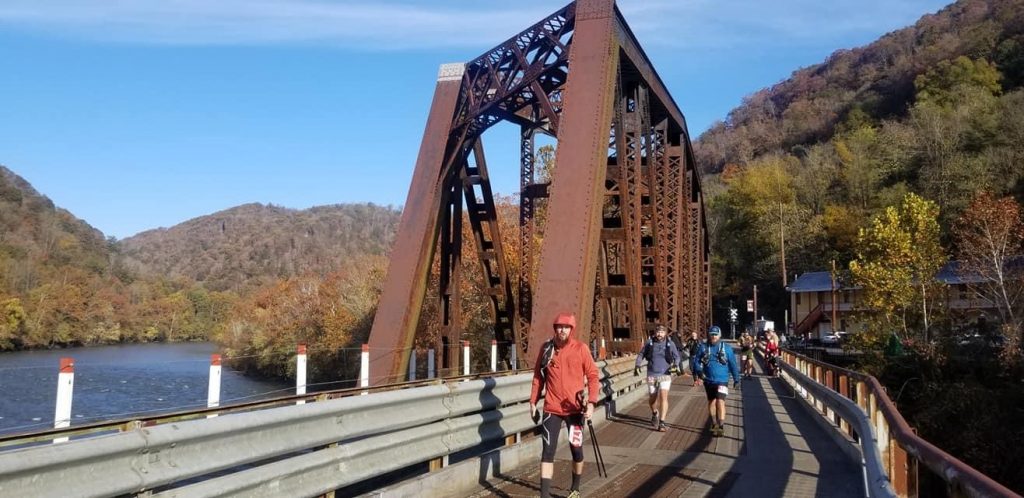 RACE MORNING!!!!! The event started at 6am on 11/6, which just so happened to be my birthday also. I couldn't think of a better way to enjoy my birthday than trying something new and insanely tough. Bryant gave us the count down, and we were off. The first 14 miles of the race were on the ACE Adventure Resort property.  We had 7.5 miles on rolling trails with some technical rocky, rooty ground, but nothing crazy. Chris and I were moving well and like mid-pack, which is typically where we sit. We hit the first aid station, Concho Rim, right after the sunrise, and the views were simply stunning.
We grabbed some food and hydration, and off we went to keep moving and knocking down some mileage. After leaving the AS, we went up a service road, then kicked up and started some climbing before getting back into the woods and on to the single-track stuff for a while.  The next aid station was 9.5 miles away, and that would be Thurmond, which was only used in the first half as it was an added loop.  We hit a wooded bridge and were directed to the right; as soon as I looked right, I saw it, the first real climb of the race. I hate climbing hills with a passion. I mean hate it; however, it is what it is, and you carry on. It was some old mining trail with tons of rock steps and just steep. Once we got to the top of this climb, it opened and was some good runnable slightly, and I mean slightly downhill section.
We kept pushing along and got to a bridge where we made a right and headed towards the aid station. It was nice to see some friendly and familiar faces on the way down and as well as runners coming back. Anytime you're in a race and get to see a friend, it automatically makes that moment in time a little better. As we crossed a long bridge over the New River coming directly into the aid station, it was great to grab some warm food and refill the water bottles. The downside to this is we were right on the water, and it was cold, I mean numbingly cold. I had my gloves off to eat for like 3 minutes, and I lost all feeling in all my fingers. We turned around and headed to where we came from the entire time, just trying to warm up our hands. We weren't the only ones either you saw a lot of people struggling with the cold. It was still very early in the day, and the sun wasn't fully up yet over all the mountains and gorges.  We kept moving till we came to that god-awful uphill, which was now a very steep technical downhill. I usually just love to bomb hills like this, but you just couldn't, and I knew that if I tried and fell, race over.  This was all about saving gas in the tank and just knocking out those miles. Once we got back to the wooden bridge, we made another right-hand turn and were now on a 7-mile trail that was an old, abandoned railroad track. It was relatively flat, and this would take us to our next aid station, which was Cunard. This would be the first time I would see my wife and daughter, which was a good feeling.  We did the run-walk off and on to save some energy but also keep banking time. At this point in the race, we were on pace for a 22-hour, 100-mile race that we both knew would never happen. We just wanted that bank of time to have when we knew we would slow down, especially in the night; as I said before, I'm basically Ray Charles running.
As we could start to see the Cunard Aid Station, the only thing in my mind was to find Amanda and Rylie and get the gear I needed.  Naturally, I saw Rylie right away; she was always right at the beginning of the aid station and yelling, dad, over here, your gear is here, we have your stuff. After checking in to the aid station, I grabbed my drop bag and sat down to get what I needed for the next 5-20 miles. The next time I would see them would be in Fayetteville at mile 43. We grabbed some food they helped to crew me as quick as possible. In the meantime, Chris was getting help from his wife and daughter. We both got the food, fuel, hydration, and gear that we needed and headed off.  As we left the aid station, we started to climb up the road to access this aid station; it was quickly a mile climb up and sucked. Once we got off the road, we climbed some more on some trails before being on a plateau and running flats and some small rolling hills. Everything was going great, and I was still having a good time till we hit the Kaymoor Mine Trail. Holy Mother of God was that a very steep technical climb, and it took a ton out of me. That climb gassed the legs very quickly. I will say though, the scenery was beautiful!!! Once we hit the top, we came to an access road, and a volunteer told us this starts our mile out and back to the overlook. I kept a slow pace, just trying to recoup the legs a bit. At the end of the trail, this stunning view of the New River Gorge Bridge was on the lookout. We had to pick up a keychain and take it to the next aid station to prove we went the entire way out. As I was headed to the Long Point Aid station, I saw this person coming towards me hauling ass, and I mean flying. Once I put 2 and 2 together, I realized it was the race leader Caleb Bowen, and he was about 30 miles ahead of me and on his way back. I have never seen trail running literally look so effortless.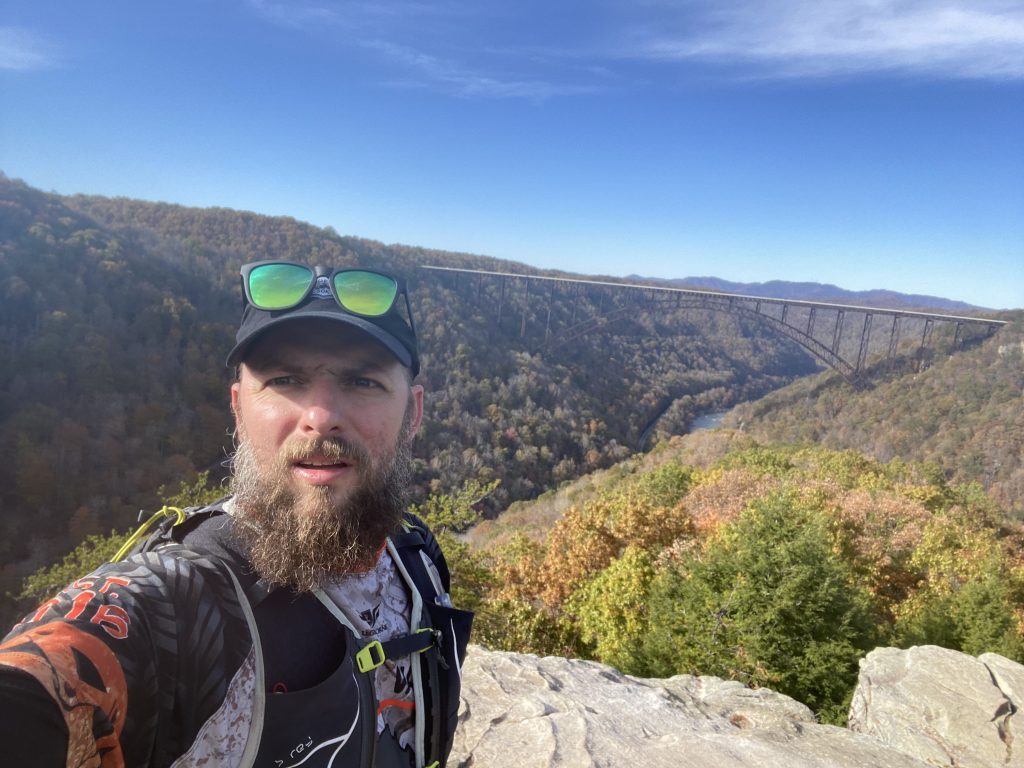 Kind of a kick in the gut knowing the leader was that far ahead of me, but I was only here to try and finish, that's all. We got to the aid station and had one of my favorite trail foods during this race. Plain Ramen noodles in beef broth with some bread and butter pickles in it. It may sound gross, but at this point, it was heaven to me. I and Chris both checked into the aid station, got some much-needed food, and checked out. The next aid station is 5 miles away, which is Fayetteville and right under the bridge. This is also where we would see our families again.
We both knew these 5 miles were basically all downhill, so we picked up the pace a little bit to again bank some more time. At this point in the day, it was a beautiful fall day, around 50 degrees; the leaves were stunning, and the views were the same.  As we got to the asphalt road leading us into the aid station, we both felt good with some slight leg pain which is to be expected.  My watch was dying, and I needed my battery pack, around 500 feet before the aid station; here comes Rylie running up the hill asking, dad, what do you need. I said I needed a battery pack and my watch charger now before my watch died. She turned around and took off. We both checked in and what kinda stank is we were pitted at two ends of the aid station, so we both had to pit, fuel up, find each other before we left.  We both grabbed headlamps and some jackets as it was just about to start to get dark. I learned very quickly when the sun goes down in this area, it gets cold, and it gets cold quick!!! We both decided that when we got back to this aid station which would only be about 15 miles, we would change our shoes and socks and get some more layers for the evening hours.  So we hugged our families, told them we loved them, thanked them, and off we went. We wouldn't see them again till mile 79 at Cunard in the wee hours of the morning. I'm glad they could all head back to the cabins, warm up and get some sleep. Knowing that made me feel a little better heading out.
We headed out of Fayetteville and headed towards Anstead, the turnaround point and only 7.5 miles away.  We had to climb through to get out of the gorge. The climb wasn't too bad as we walked it and took our time. We were expecting a nice run to Anstead, and we were wrong. It was basically a ½ track trail which made it difficult to let people by on their way back. It was also very technical for a few miles, and we were both feeling it. Chris started to gap me quite a bit; I just kept trying to plug away and get there before 8pm. The cut-off was 10pm; we tried to always be 1 aid station ahead of the cut-offs. So, we got there at 8pm, and that was the Fayetteville cut-off to head to Anstead, if you follow what I mean.  There was a long gradual climb into Anstead that, in the dark, felt like forever to me. The volunteers at Anstead were fantastic. They had fresh hot food, drinks crew there, and a bonfire.
I defiantly took advantage of that for like 3 minutes while waiting to use the bathroom. Coming into Anstead, my hands were getting cold again and quick. My Bleggmitts just weren't cutting it. So, I got some hand warmers in them, got help, and some food from Chris's family, and we turned around and started back towards the finish line. Anstead was mile 50.5, and we did it in 14 hours, which I was happy with with the climbing, elevation, pitting, and cold. We both knew we still had many people behind us as we were still middle of the pack. As we headed back towards Fayetteville, this is where things started to play with me mentally. We only passed 5 people headed towards Anstead, and that's it. Just like that, we became the back of the pack and in a hurry. It wasn't because we were running so slow; people were dropping like flies with cut-offs or just saying I'm done. The cold got to a lot of people and really tightened everything up on folks a lot quicker. We both knew we were still in good time, but it was a gut check for sure. We got back on the paved road and started our descent back into the gorge and the Fayetteville aid station. It was around 10pm when we got to the aid station. This would be our longest pit so we could both change socks, shoes, re-lube our feet, get new clothing on, extra batteries, and chest lamps. We also need to eat and drink. I had what was hands down one of the best mac-n-cheese's I have ever had. I saw a runner with a cup of mashed potatoes covered in coke with gummy bears in it. My stomach turned, but I saw this guy take one bite and the look on his face was pure heaven. When you run these races, you eat some weird random combos that taste amazing at that point in time, and I was no one to judge.  As we left Fayetteville, we both knew we had a massive climb coming up, I mean well over a thousand feet in around 2 miles. It was a climb that never ended. At this point, we were walking almost everything except a few small flats and downs we could slow jog. Once we got to the top of the climb, we talked, and my right knee was junk, and his left knee was junk. Both of us, our legs were really starting to feel it and the fatigue, but we were both mentally strong and knew you just keep moving until you can't anymore.
My mind had started to go into some weird and dark places, and those ultra-demons were coming out; I could see Chris was going through the same thing. We always talk and shoot the bull as we run together to help time, and we have some great conversations. I have run many races with him and been in some dark places, and he has always been there for me. I think that is what has made our friendship so strong. We both understand each other well and know how to bring the other away from those dark mental moments when we pick up on it. We were now headed towards Long Point again, where the wall hit us both; we slowed and by a bunch. It was dark, cold, and simply miserable for us both. Our legs weren't at the speed we needed. We knew this would happen, which is why we had that banked time. Well, we started to make withdrawals on that bank and quick. We were both at a full walk by now; our goal was literally aid station to aid station and keep as warm as possible.  For me, this stretch is where the hallucinations really kicked in. I had a few the last 10 miles, but nothing crazy. Now I was at the point of it was happening like every 5-10 minutes. We made it to Long Point under the cut-off and got some more hot food and broth to drink. We found out the number of folks who DNF'd was high crazy high for any type of race I have ever done before. Long Point was mile 63, and the next aid station was at mile 70 or so we thought. We kicked off to the right from a trail we previously ran and was now on a new 6-mile section of trail. Let the mind games chapter 2 come into play. Most ultra-runner folks know GPS watches are never dead on. You are either a little low or a little high. We caught up to a runner and her pacer and shared a few miles with her. We could see headlamps in all 360 degrees, and it made no sense to us whatsoever as to where we were going. We just went from trail marker to trail marker. All our watches were at mile 70 and no aid station; we finally saw a marker a mile later that said mile 69.5, which was devastating. We were all sooooo cold and just wanted some warmth. After what felt like another 15 miles, we finally made it to Arrowhead.  This aid station was sooo cool. It was decorated in a Christmas theme, and they had heats and chairs for us to use, plus the movie Elf was playing. Everyone was so upbeat. Once we left the aid station, we heard a pacer say to his runner, you made the cut-off, and that's all that matters; you keep going. I said we should be good on time; we are well ahead of schedule. He goes not really man cut off is 4:30am, and it's 3:40am. (The times sound weird cause it was daylight savings time, which really through us of trying to calculate times at this point) Off they went. This is when I realized shit, we gotta move to make the cut-off at Cunard where our families were waiting. We had 9 miles to get there, and these 9 miles sucked big time. We were waiting for this left-hand turn that never came, and here we had made that like 6 miles ago and never realized it.  We were both in a lot of pain. Every step uphill or downhill hurt. The only time I was on the flats which were few and far between. I told Chris, dude, we gotta pick up the pace or we won't finish.  Another 3-4 miles went by, and Chris asked me if I could go faster. I told him yes, I could. He then said to me, I can't, I just can't. It hurts to walk. You gotta go and try and finish. If you stay, you won't. I asked him if he was sure, and he shook his head, and off I went. This guy is one of my best friends, and leaving him hurt and alone in the middle of the night in West Virginia was tough, but I knew I had to go. It sounds horrible to just up and leave your friend like that; however, we all understand in this sport, and I would have hoped he would have done the same if it was me. I was in so much pain but went back to running 12–13-minute miles until I hit the road to make the descent into Cunard. All I knew was my family was there, and they had the gear to get me warm. I also knew this had to be very quick in and out of this aid station. The next 7 miles were flat, and I could pick up time on this to make the finish.  I walked down the road to the pits, and Amanda and Rylie got me what I needed and sent me on my way. I let Chris's family know he would be awhile as he was done. That feeling of the unknown for them until he got there had to be terrifying for them. He made it there and was safe, I found out later, which is all that mattered to me.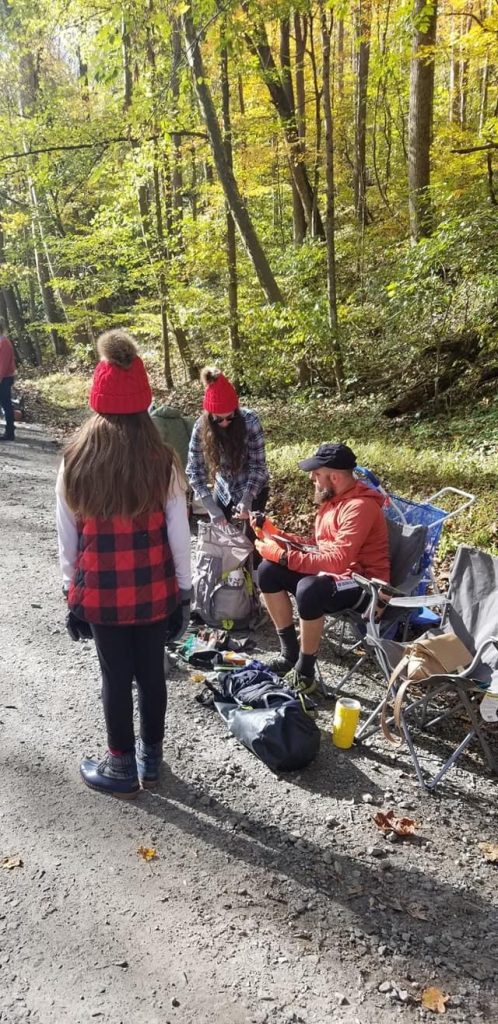 I left Cunard at mile 79 and tried to keep a 14-15 min mile to get me some more banked time or put some more time back in the bank. With about 2 miles left to the aid station, the sun rose and became a little lighter. Being by the river, though, made it so damn cold that I literally couldn't feel my hands anymore. I made the aid station 90 minutes ahead of the cut-off, but my legs just weren't having it anymore. I started to do the math in my head, and if I kept a 20 min mile pace, I could finish this race. In my mind, no way wasn't going to happen. I was finishing this damn race even if I made the last cut-off but not the official race cut-off. That aid station was somewhere around mile 84-85, I think. At mile 86, we had to cross a creek as we returned on ACE's property again for the last 14 miles. It took me about 10 minutes to cross this creek because I focused on not getting my feet wet and cold. Once we crossed the stream, we made a left and started to climb. Halfway up that climb is when shit got real, and it got real, fast. My left knee literally locked up, and I was in soooo much pain. Getting to the top felt terrific, and I just kept telling myself to keep going; it's only pain. The pain won't last forever. I was trying to talk myself up. Then around mile 88, the right leg locked up on me, and I was now at the point where I physically couldn't walk anymore. I drug myself for what felt like 20 miles, and here I had only gone about a half-mile. Tried to call my wife and text. Apparently, I was making no sense whatsoever. I was alone, unable to walk, terrified, and knew I had 4 miles to go to get to the next aid station. That was my only hope of help. I quickly dropped to like 41 minutes a mile or worse.
I have never felt pain like this in my entire life, and I knew it wasn't good. As people passed me, I was literally telling them, at the aid station, please tell them to send a gator, truck, person, anything. Tell them bib 174 needs help. An amazing woman gave me some pain meds and salt tabs and said they would send help. Part of the trail was on this tone road, but you quickly went off it. I remembered on our way out, this stone road led to a road that goes to the aid station. I followed it for a bit, then decided no, go back on the trail. That's when I felt and just had sharp pains running through my legs. I just started yelling for help. I was losing it mentally, emotionally, and physically. I drug myself back down the little hill and went back to the road. I knew it was over, and I broke down, alone in the woods, trying to understand how in the hell this happened. I heard a truck motor in the distance coming towards me; I just couldn't see it. I drug my legs towards the noise as well as I could. About 5 minutes later, here comes this old red truck coming down the road. I put myself in the middle of the road and started waving my trekking poles and hands in the air. Thank the Lord he stopped; I told him how I was hurt and begged this guy to take me to Concho Rim to the aid station. I told him, I will pay you whatever you want; I just needed help. He helped me slide into the bed of his truck, and off we went. He brought me back to the aid station, and the volunteers and staff helped find my wife and daughter and get medical to look at me. Turns out everything in my knee was so inflamed they just wouldn't bend or work for me. As I was getting wrapped up, Amanda was next to me. I looked at her and said I'm sorry, and just started crying. I have literally cried more in these 6 hours than I have in the last 15 years. I was soooo close; this one is gonna stick with me for a very long time.
This is going to sound contradictory, but overall, I had a great experience in this race. It was well run; the views were stunning. I had great company, a great crew a great teammate. I learned so much about myself. For the last few years, I have told many of my friends and family when asked why I do these races that I wanted to find my physical and mental limits. I now know them. I'm happy that I'm much more mentally strong than I am physical. I made sure I gave myself a few days before I wrote this blog after the race to let it all digest. I'm a fortunate man to have the support system that I do in my wife and daughter. No matter what, they are always there standing behind me in support. I'm still in a bit of pain but back to walking normally as I write this, 5 days after the race. While my race was technically a failure and caused a ton of pain. I hope folks who read this look to push their limits and see exactly what they are made of. There is no reason to live life just doing things you know you can do and not better yourself. There is so much more to this race that I didn't share, as some of those moments are just for me. A motto I have lived by for decades has been "Go Big or Go Home" well, I went Big and got sent home, but I at least showed up and literally kept going until I physically couldn't.
To learn more about the Rim to River 100 and register for next year: Rim to River 100 Race Details