OCR Buddy first introduced Cole Derosa (@cjdrosa) as a future name to remember years ago. Since that time, Cole is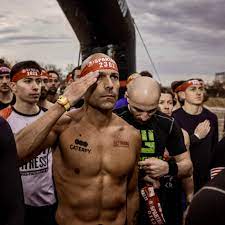 a constant podium presence and is a past Spartan Age Group Trifecta World Champion, Age Group US National Series Winner, and many more.
Cole has been active military for nearly three decades and is a continued positive force in obstacle racing. We thank him for his service, and we introduce Cole as the next person that I have "10 Questions with…"
When did you start in OCR, and how did you find it?
My 1st OCR event was in 2015- a Spartan Race. I was in-between military deployments, and a work collogue thought I might be interested in trying.
When did you realize, "Hey, I am good at this"?
While running in my 1st OCR event, not knowing there were competitive heats, I ran Open wave and finished top 10 overall. I am naturally competitive, already had an ok fitness background, and figured with some specified training, I had a chance to do some great things in the sport.
What is your personal highlight to date in OCR?
This is a hard question because every year, I try to set very tough goals leading to some personal favorite accomplishments. First, I have to say winning the 2019 AG Spartan Trifecta World Championship and being the Overall Ages Spartan US National Series Champion for 2019 and 2021. Winning one's AG is a huge achievement, but being a Masters athlete and leading the whole US National Series really highlights the hard work and dedication, not to mention what is achievable at a later age.
What has surprised you the most about the sport of OCR, your successes, and the OCR Community?
The sport of OCR really has some tremendous athletes from across all domains. I was surprised at the level of genuine camaraderie there is amongst many of the athletes. Personally, I am surprised by the fact that later in life, and not coming from a college sport background, but with the right training plan we all can be highly competitive in a very physically demanding sport like OCR. It's all about training smart.
When you are in a starting corral or know you are entering it soon, how do you prepare physically and mentally?
Preparing mentally and physically begins well before the start of the race. But in the corral or at the start of the race I know I have put in the work, stayed true and consistent with my training and, that I am toeing the line in the best shape possible for that race. This provides the confidence that keeps me in a mentally strong place. Other things I do may seem common sense, but often overlooked. I put in a great warmup before the race- I want to feel nice and warm. I also analyze the racecourse map- reviewing my strategy going in for surges, nutrition, and transition areas. Even if I do not follow my strategy, it's easier to make minor modifications during a race then to go in blind.
Thank you for your continued service to our country. How does being active in the military help you in the sport, but also does it hinder your training/preparation/participation in OCR?
Thank you for that- wearing the uniform for over 27 years is a high honor. The military really has provided me an opportunity to do extra things in life, like OCR. It has shaped me in some very profound ways, making me what I am today. Being in the military, especially, an Army Infantry officer, absolutely helps in OCR and in life. For one, many OCR obstacles are very military centric, so I have a career of familiarization- climbing walls, ropes, crawling under wire, running through difficult terrain, and carrying heavy things to name a few. Outside of that, the military teaches you how to overcome adversity, take hard situations and figure a way through it. It forms mental and physical toughness- GRIT. Like OCR, the military is an inherently outdoor career field, especially in the combat arms. If it is cold, wet, muddy, or in the most inhospitable terrain you have to adapt and perform as a soldier. OCR shares this- you must be adaptable and embrace the difficult times.
How do you track your self-perceived weaknesses and how do you improve them?
In the military, after an event we conduct an After Action Review (AAR). OCR or in my training, I conduct these personal AARs to identify areas requiring improvement, then develop a plan to address it in my training. Sometimes not all weakness needs immediate course correction. But identifying them is important.
What advice would you have for someone looking to take the next step forward in OCR?
First, sign up for a race near you. Get it on the calendar. This puts a mark on the calendar that will help make you accountable in your preparation. Next, do your homework. Quick internet research will tell you a little about the race; types of obstacles, kind of terrain, and what the weather might be. All this data will help you prepare better and increase your chances of having a great race experience. Lastly, the only goal I recommend is to go out and have fun but challenge yourself. Use the 1stOCR to gain familiarity with the sport to learn your weakness.
What are your 2022 goals? What are your goals for the future?
Broadly, 2022 goals are: win the Spartan US National Series in my AG and win Spartan World Championship and Trifecta World Championship in Sparta, Greece. Additionally, I want to continue running both Elite and AG. Past 2022, I look to retire from the US Army in 2023 or early 2024. Then take my training to new levels.
What would surprise us to learn about you?
I love homemade chocolate chip cookies and can't turn them down, despite all my discipline. If there are some in the house, especially fresh from the oven, I really have little restraint and might eat seven- just in the first hour.