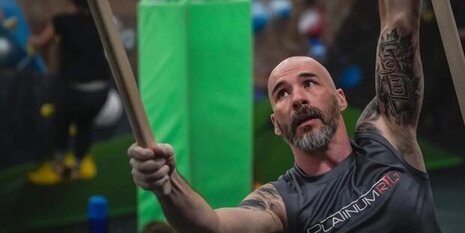 Dave Claxton is well known around the OCR Community. He is the co-host of Obstacle Fitness X, oversees Team OFX, moderates OCR Tribe on Facebook, and co-hosts The OCR Weekly Show on Obstacle Racing Media. He was kind enough to sit down and be the next guest on "10 Questions with…" Dave Claxton.
How did you get introduced to obstacle racing, and what was your first impression of the sport?
Back in 2013, I was teaching Judo. One of my student's parents asked me and one of the other sensei if we would be interested in doing a Tough Mudder with her team as part of a documentary. We jumped at the chance knowing nothing about it other than it was free for us. So off we went. We had a blast and were humbled by how poorly we did on the obstacles. I also did a Spartan that year for fun with family and enjoyed it, but I didn't do another race until 2017. Then I realized there was a competitive side. That is when I went in full force.
What have been your most memorable moments in obstacle racing to date?
Wow, there have been so many. You are talking to a guy who met his wife through OCR. It has changed my life. Putting the meeting with my wife aside for now as an obvious choice, I think three of my favorite memories were OCRWC 2017 at Blue Mountain. It was only an hour from my home and the most epic venue with a killer course. I finished the 3km, band intact, thinking I was some OCR machine! The next day, the 15km taught me I was an OCR nothing lol. It took me 5 hours to do 15km, I lost my band, and at one point, I stood in a river for 15 min with both legs cramping so badly that I couldn't walk.

In 2020 right before everything shut down, we went down to a small race in Marion, Alabama we had been there the year before and I won the over 40 division and was hoping to do the same this time due to a little luck and a course very well suited to me I got my only overall OCR win qualifying me for the pro wave of OCRWC (that I will do all I can to not come dead last lol)

The other would be TMX. To this day it is my favorite course and my favorite style of racing. I drove all the way from Ontario to Miami for that race, and I would do it again tomorrow if I had the chance.
You are the co-host of Obstacle Fitness X Podcast. In one of the earliest Instagram posts, you were described as the "weekend warrior" of the podcast. How did that podcast come about and do you still see yourself as that "weekend warrior" 14 months later?
I had been asked to do a few OCR podcasts before and dabbled a bit with some other shows, but those were never quite the right fit for me. I knew I wanted to do something on my own terms, so I waited a bit. Then my wife and I met Bethany and her family. We all hit it off instantly and went on a race camping trip to Course Extreme in Quebec. We had a blast and the conversation around the campfire is what led to me think she was someone I would want to co-host on a podcast. And I was right. She has been an amazing co-host. Am I the weekend warrior? Well that's up for debate I have become quite competitive in age group races and competitions and i train very hard but in my mind yes I'm still a weekend warrior
There are many podcasters out there. Besides OFX you are the co-host of the OCR Weekly Podcast on @obstacleracingmedia.   What advice do you have for people who are interested in beginning podcasts and the preparation that goes into a successful one?
Simply just dive in. Don't spend a ton of money to start out. Keep it simple. It's more about what you have to say than all the bells and whistles. To this day, we use free software and inexpensive equipment. The other advice is never say anything you wouldn't say to someone's face because you probably are and don't realize it. It is a fine line to walk if you are doing a commentary show and have criticisms.
Being in Ontario, do you find a big difference between the United States and Canada in terms of the obstacle community and also in terms of the attitude of the athletes?
Honestly no. The States has a bigger market population-wise, so the community is obviously larger. Just like here in Canada, it has pockets where it thrives and somewhere it needs bolstering. As for attitude, again it is very similar. Very rarely have I seen anyone racing here or there that wasn't friendly and welcoming. The sport seems to really draw an inclusive crowd.
How often are you training? What are your training sessions like and what advice do you have for people in training? What should be their focus be and what should not be overlooked?
I train 5 to 6 days a week. I really enjoy metcons and compromised running. My favorite workouts are in my garage where I do 400m intervals with obstacles and work out zones between runs. If you want to be successful in OCR, your top focus no matter which race brand you choose should be running. Even in obstacle-dense races like OCRWC 3km, for example, it is still a running race. To no surprise, grip and pull training needs to not be overlooked. I am a big believer that you can make up for a lot of mistakes on obstacles if you have the grip strength to bail you out. I train grip and pull 3 times a week along with specific obstacle work. That is more than is probably needed, but I enjoy it.
When not involved in your podcasts or training/events, what do you do for fun and to relax?
There isn't much time for that lol. I am a fan of auto and motorcycle racing so I like to sit back and watch a good race or a hockey game.
My wife and I  are also big fans of road trips and camping so we try to combine that with our race weekends.
What are your racing plans for the remainder of the year? What do you see as the future of obstacle course racing?
This year our calendar is packed like most OCR enthusiasts. My "A" races are OCRWC 3km and the RX1 championship, but I'm also very much looking forward to the Canadian Spartan races, hitting a Savage race, and finally getting to cross Indian Mud Run off my bucket list.

The future of OCR. As for mass participation, I think we are past our glory days but OCR will survive and always be there for the fun run enthusiasts and out of this the true sport will evolve. I believe when OCR makes a shorter more spectator-friendly race we will see the sport take off and become more mainstream
What would surprise people to know about you?
Wow, that's pretty tough. I'm kind of an open book. Some may not know that I use to be quite unhealthy. I was strong but in very poor shape. No cardio didn't eat well, and it was starting to show in some very negative ways.
Open questions. Plug yourself. Tell us what people need to know about you and anything else you want to promote.
Well, obviously I would really appreciate it if everyone would check out my podcast with Bethany McChesney on The OFX Podcast. Duonamic currently sponsors us so take a look at their awesome training gear, and support our pro team, #TEAMOFX. We have an awesome roster of 6 amazing athletes who have already hit some podiums this year, and I assure you that there are more to come. Also, I can be heard on The Ocr Weekly Show with Matt B Davis and on many of the Hyrox live streams as part of the Obstacle Racing Media network.
Follow OFX Podcast on Anchor OFX on Anchor
Follow OCR Weekly Show Podcast OCR Weekly Show Podcast
See the previous edition of 10 Questions: