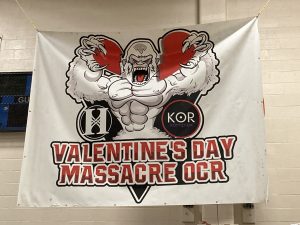 I've been eyeing Hazelwood's (St. Louis, MO) races for a couple of years now; they just haven't quite worked well with my schedule. Honestly, this one didn't either, but I decided to live a little and head out there anyway; here's what I thought of their unique ~3 miles with almost 50 obstacles event: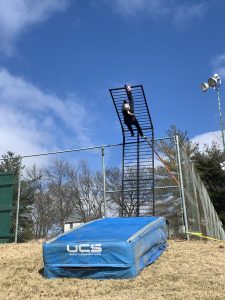 Parking & Check-In:  The event was small, like less than 100 people, so parking and check-in were super fast. Parking was close enough to leave your bags in the car or to jump in the car to heat back up in the frigid temperatures. However, that wasn't necessary because they had the community center and gym open at the literal center of the course, which was very warm. Plus, if that wasn't enough, the final obstacle, a fire jump, was used to keep spectators and athletes warm when not actively being used.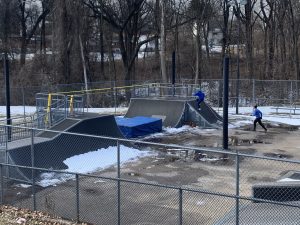 The Course:  I knew I was in for a treat when a couple of years ago, one of my friends attended one of their summer events, and it started by going down a slide and then walking upstream against a (not so) lazy river. For the winter Valentine's Day Massacre, you stayed dry the whole time, but the course utilized the entire park and community center.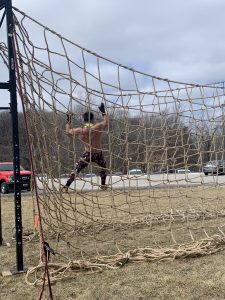 It started off in the skate park using some of the ramps as warped walls and a Tyrolean traverse between landings. Then you ran out into a field loaded with obstacles making it very spectator friendly. Mix in some running through the pool/water park area, around the community center, and through the woods (for my OCR purists). The bottom line, the course, and terrain were varied…which honestly is what makes OCR great. It isn't just a technical trail, just concrete or just field; it was a little bit of everything.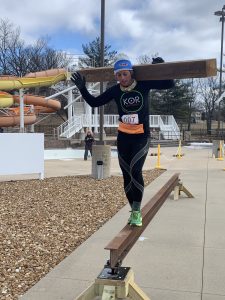 The Obstacles:  What was so great was despite this being a small event, the obstacles were great! They only build them two wide, which is why the race has to be in a time trial format. However, it shows that you don't need massive obstacles to have a ton of fun and still have a competitive option.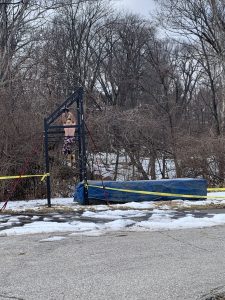 There were several obstacles that involved jumping from heights onto crash pads, which were my favorite part, including two inverted ladders and a jump over a railing. Two of the carries got cut out from the ice, but the ones left were still fun, including a concrete tube, an atlas ball sandbag, a bucket carry up giant pool steps, a "bomb" (concrete ball with a rope hanging out), and a log carry over two balance beams. There were also three different rigs: one that was largely unstable platforms, one that was a more traditional rig, and one that had a long cargo net/bomb grips/monkey bars to pump out the arms.
If there's a reason to head to Hazelwood for one of their events, this is it. It's hard to find obstacle density like this anywhere, regardless of the brand. At a price of the race per obstacle cost, I think they might hold a record for the lowest price per obstacle.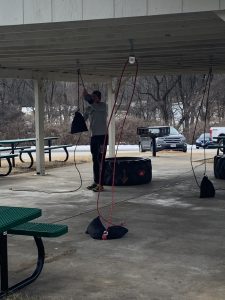 The Podium:  Despite the event being small, the competition was surprisingly high with athletes like 3rd in the US in HYROX in 2021 and MudGear-Battle of the Lions Pro Brint Hastert, podium regular and Strong as Oak Leo Armenta, a recent winner of Phoneix OCR, a recent podium finisher at HYROX Alicia Keuker, my former teammate who appeared on Broken Skull Ranch Lucas Pfannenstiehl and even American Ninja Warrior Jamie Rahn. I point this out to say that if these are the type of athletes that are making the trip out to the event, you know there has to be something great and unique that's drawing them in.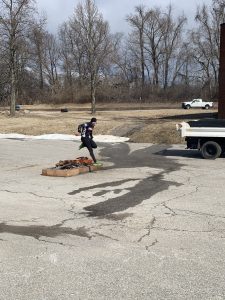 Plus, the overall winner had arguably the best podium ceremony ever. Check out the video announcing first place here.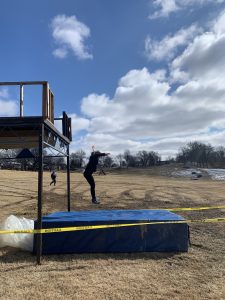 Overall:  I love this race. The time trial format was unique, and the obstacles…wow. There were so many obstacles I didn't have time to look at my watch once during the ~37 minutes it took me to run the course that was less than three miles. If you are looking for a great race, with unique challenges, in a spectator-friendly environment that has a family feel, you need to come out to Hazelwood's races. Their next one is the Charenji in late Sept/early October, with around 50 obstacles in just 1.5 miles of racecourse!!! Even if you are a diehard fan of the big brands, you need to come to some smaller venues now and then to see what the other side is like.
Be sure to check back here on OCR Buddy for updates on their upcoming events. you need to come out to Hazelwood's races. Even if you are a diehard fan of the big brands, you need to come to some smaller venues every now and then to see what the other side is like.