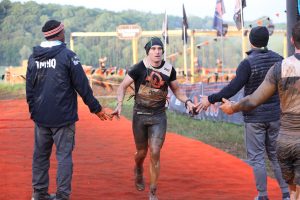 Evan Perperis is many things. Athlete, Author, Military. He is known as the Ultra OCR Man and just released a new book titled "On Endurance: A Practical Guide to Unlocking the Secrets of Super-Human Performance
" that is available on Amazon and wherever books are sold. He is the leader of the Mudgear-Battle of the Lions Pro Team and a contributor to the OCR Buddy Blog. WHo better for us to sit down with an invite to be the next gues on "!0 Questions with…" Even Perperis
How/When did you get introduced to obstacle racing and what were your initial impressions?
My best friend growing up, Demetrios "Sty" Karellas told me I should run one for a couple of year because he thought I "would be good at it." The Tough Mudder advertising with "probably the hardest event on the planet" and promotion of live electricity at their events made me think it wasn't for serious athletes. Fast forward a year or two and through the military I was doing a three week exchange program where I worked at Under Armour. They were sponsoring Tough Mudder at the time so through them I got an entry into World's Toughest Mudder. I showed up to my first one in 2014, finished 13th and realized this is what I had been training for my entire life, I just didn't know it existed. Since then I've been 100% OCR focused.
Almost from the beginning, you were involved in endurance obstacle racing, how did that happen?
2015 was my first full year focused on OCR so I tried a mix of different distances from 5k to 24 hour. I found that I tended to perform better at the ultra-distance side of things so while everyone else was chasing whatever was the new hottest race format/largest cash prizes, whether it be BattleFrog Elite, Tough Mudder X or Spartan National Series, I focused on where I knew my strength was…suffering for really long periods, often with minimal tangible reward.
How do you train differently for endurance events as opposed to "standard" length obstacle events? What is that training? What advice do you have for people in their training to get them to the next level?
Ultra-OCR is a unique style of racing, so unique I realized I should write a book that is 100% focused on that specific aspect of the sport "Ultra-OCR Bible". As a general rule most of my runs tend to be easier paced but longer in distance. If I'm racing short distance in the middle of the year I'll also include some speed work mixed in the middle of the week. However, for Ultra-OCR I try to do back to back long run days to practice running on tired legs. It allows you to stress your body in a similar way to running really long distances while being physical and mentally easier to recover from.

If you want to take your training to the next level my advice is to be patient, be consistent and outlast your peers. I've been in the military long enough and competed in enough sports to know that most people lose interest after 3-4 years. If you make it to the five year make doing consistent training in anything, not just OCR, you'll have gained so much experience you'll be far ahead of many of your peers. All my friends/coworkers that were faster than me 10, 20 and 30 years ago all stopped training at some point. I've simply outlasted them.
How early on did the "Ultra-OCR Man" nickname start?
I was talking to Brenna "Red Beast" Calvert and saying how I borrowed Dean "Ultra-Marathon Man" Karnazes model of doing endurance events for charity. At one of the next races, Conquer The Gauntlet Atlanta, she called me something like "OCR Endurance Man" or something similar like that during the live stream. I shortened it up when I started my Instagram account later that year. Seems to fit me pretty well and I've continued to use Dean Karnazes model of racing long, doing self-created ultra-endurance feats for charity and even wrote a biography covering some of them, "Ultra-OCR Man: From Special Forces Soldier to Record Setting Professional Obstacle Course Racer."
You have many years of service in the military; thank you for your service. How did that training help you mentally and physically for the obstacle events?
I've been in the military just shy of 18 years and I'm still an active duty Army Special Forces officer. Being a Green Beret has helped tremendously especially when it comes to endurance events. You don't feel good at every endurance event but it's important to keep moving forward regardless. That's driven into you during selection and reinforced during combat. If you're having a bad day on deployment, you can't be like, "Nah, I'm not feeling the firefight today guys, let's just come back and try again next week." The same mindset of performing regardless of how you feel applies to racing. When it's time to race, it is time to race and it's not over until you cross the finish line..
I know you are involved in Tough Mudder's Infinite Hero Honor Challenge. How did you get involved, exactly what is it and what can people expect?
I've been a long time follower of Tough Mudder, 40+ events, 10+ podiums, 3x individual top ten finishes at World's Toughest Mudder (all with 90 miles) and a World's Toughest Mudder team win in 2018. When they planned on launching a charity based event that had military ties, they reached out to me to give it more of authentic military feel. I feel like we really nailed the concept combining military themes with the fun that is Tough Mudder all for a good cause.

It's a 10 hour team building event where you zig zag through the course following points on a map like an amazing race type format. When you reach your points you have to complete the designated obstacle as a team with a unique set of rules, for example being blindfolded, tied together, completing it backwards or carrying something heavy through it. The participants also raise money for the military veteran focused charity, Infinite Hero Foundation.
Besides racing for yourself, you lead the Mudgear-Battle of the Lions Pro Team and Team Strength and Speed. What should people know about these groups, the work they do, the people involved and how they help push you?
The MudGear-Battle of the Lions Pro Team is a great group of athletes and better group of people. I think we each bring something unique to the table that makes us very competitive at a high level in a variety of niches of OCR. We have athletes that have stood on the overall OCR World Championship podium, won Master of the Rig at OCRWC, been on National podiums at hybrid events like Hyrox and GoRuck Games, been on multiple seasons of American Ninja Warrior and the podium of World's Toughest Mudder (individual and team). However, what I like about us most is I really feel like the team is down to earth and approachable. We work hard to get benefits from brands, race well for our sponsors and try to find ways to give back to the sport through volunteering, technique videos or workout tips. They are a great group that continues to motivate me personally to try and keep up to their level.

Strength & Speed is my own brand that I use to sell training books, some apparel, BleggMits and motivate athletes within the sport. I purposely keep it on the smaller side so I don't think you'll ever see us win a "largest team award", nor do I want to. I think if we get too big you lose the personal connections and value. The group is full of fitness professionals including pro athletes, physical therapists, personal trainers, nutritionists as well as athletes just trying to become a better version of themselves. You don't have to be elite to the join the team, but you do need to be someone that is trying actively to become a better athlete. Essentially we've pooled knowledge from experts which normally costs money and share it in the private group for free.
When away from the sport, what do you do to relax and enjoy yourself?
Is there a time when I'm not doing OCR stuff? Lol, it feels like that's all I do. In all seriousness, I'm either spending time with my wife and two kids or training marital arts. I've been doing karate for a couple of years and in 2021 started training at a place that teaches Brazilian Jiu Jitsu, Jeet Kune Do and Kali. Just like OCR, I like that it requires a large range of skills, has functional compound movements and provides goals with feelings of accomplishment.
What is your favorite memory or memories in obstacle racing?
This could take up several books by itself. I'll sum it up by simply saying anytime I achieve something that I thought was impossible. Sometimes it's a top result at a major race like winning World's Toughest Mudder team division or 2nd place Pro Coed at North American OCR Championships both in 2018. Sometimes it's finishing one of the charity events like OCR America 2 (8 days, 8 venues and 8 OCR marathons in winter) or 24 hours of treadmill OCR. Sometimes it's simply finishing a rig I was stuck at like in Conquer The Gauntlet Wichita. Prize money and sponsors will come and go, but feeling of accomplishment and getting to share that with close friends and family is why I'm still here.
The floor is yours. Open ended. What else should we know about you?
I'm just thankful for all the sport of OCR has given me. From books (newest one called "On Endurance" comes out May 1, 2022), to trips to the other side of the world to race in Lebanon as well as Kuwait for Hannibal Race to an upcoming documentary "Ultra-OCR Man" by Bobby Ross, OCR has taken what seemed like a fantasy and made it a reality.

Come to Tough Mudder New England June 4th and 5th. I'll be doing my final Utlra-OCR fundraiser, OCR Everest. The plan is to climb the height of Everest while doing obstacles during the Tough Mudder event weekend in Stratton Vermont. Learn more about it here.

I think I've got a couple more years left of being truly competitive, then I'll start tapering back the number of events, however I suspect I'll always be involved in the sport in some aspect of the sport periodically for the rest of my life. I'm looking forward to see what else the future has in store for me.
Learn more about Evan: Team Strength and Speed
Follow him on Instagram: Evan on Instagram