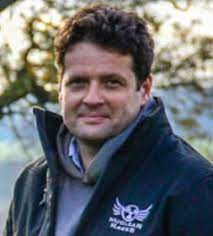 Nuclear Races is highly regarded and considered one of the top events in the United Kingdom.  Besides being the former home of the OCR World Championships for two years, the facility holds multiple obstacle events every year.  Besides Nuclear Races HQ, there is Nuclear Race Wild Forest Nuclear High Ropes, and much more.
We recently caught up with James Parrish, Race Director, and the man behind Nuclear Races.  James is the next to join OCR Buddy with "10 Questions with…"
How did you get involved in OCR and how did that lead to Nuclear Races?  Also, do you race yourself?
11 years ago, the wife decided I was getting fat and it was my 40th birthday year so I was packed to go to circuits once a week with friend. It was there I heard about this thing called Adventure Racing with "obstacles". My ears instantly pricked up as something I could do on our family farm.
When Nuclear Races started, was your vision to build it into what it is today, or was there something else in mind?  Is there more to come?
I was naive to begin with and needed to find my way. Once I had an understanding, I always knew I wanted to be one of the best. It's true to say I didn't really appreciate what that was or where I would end up. But in a sense, it didn't matter. I was wanted to be on the top of my game and create something that was good value and respected by my customers
While Nuclear Races is well known as one of the top event locations and has been the host of the OCR World Championships, can you give a little history of the event to those that are not as familiar with it?
So, we started in 2012 and the first race was 10km and had 80 entrants that paid £15 each. Free tee shirt, no medal. 11 Years later we put on 3 main events a year that pre-pandemic would bring in 20000 people.  The courses are continually changing and we have around 100 obstacles available to use. The main difference between now and then is the corporate side of the business that basically runs all year around.
While the past couple of years have been rough on the entire obstacle racing industry, how has Nuclear Races fared during this time?
Corporate side was exceptional – mass participation side was lukewarm. We only cancelled one race, because the appetite was not there.
How does 2022 look for Nuclear Races and what are you projecting moving forward?
The future is bright. We have spent time and money innovating and improving over the past couple of years. Bookings are back to normal – in short were excited to get going again.
While Nuclear Races is the brand with many types of events (Rush Weekend, Oblivion, Blackout, etc.) it is open year-round and has Wild Forest Activity Centre, Ropes Course, Secret Bunker and more.  What are you most proud of about your facility?
Offering good value to your customers. That can mean money or wellbeing or just plain old fashion smiles and fun.  In any case, we just want to provide a good time to those that come to Nuclear Races at a good and fair price.
What do you enjoy the most about the OCR Community and the athletes involved within it?
The comradery. There is no other sport like it. Everyone is equal out on course!
What do you do to relax and have fun?
Bizarrely, I seem to have a fetish driving bulldozers. Marvelous stress relief!
What would surprise us to learn about you?
At heart I'm a farmer.
In your mind, what is the future of obstacle racing in the UK? Europe and the world?
The future is fine. People come and people go as they progress through life and their exercise preferences. What's important is offering a quality, good value event which is fun. As life returns to normal the benefits of being outside exercising in a fun way will always be popular.