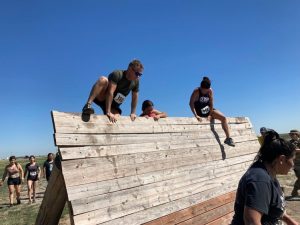 Thanks to OCR Buddy, I've been finding hidden Obstacle Course Racing (OCR) gyms all over the USA.  Their app makes it easy to find races off the beaten path, which brings me to The Siege in Garden City, KS.  Located right in the middle of Kansas, I decided to venture out there to see what this local OCR had to offer.  Here's how it went.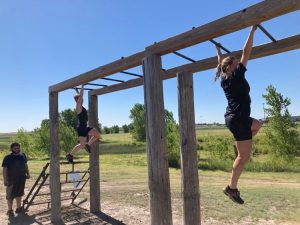 Parking:  Parking was at the high school which was located at around the halfway point of the course.  Two shuttles took you over to the start line located about a mile away.  There was parking right next to the start line but due to space considerations they had us primarily use buses (a future opportunity for VIP parking?).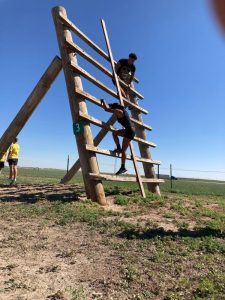 Course:  The course started out on concrete before immediately turning into trail/field running for the next mile.  After a series of obstacles you ran by the parking lot, where the shuttle buses were, and onto the track for a ¼ mile sandbag carry.  After more field running you came down the same starting chute to finish the race, which was a cool long straightaway letting you sprint through the finish.  With the terrain being primarily hard-packed dirt this is one of the few OCRs you could get away with wearing road running shoes without any issues.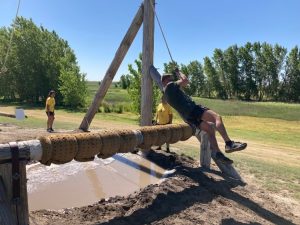 Obstacles:  Going into this event my expectations for obstacles were low, after all it was a small event in the middle of Kansas.  However, they over delivered in both quality and quantity.  The course used what appeared to be Garden City High School's JROTC obstacle course for large portions of their event.  To me this was a great move because it meant you can have high quality obstacles in your event since they are part of a permanent facility without incurring a high cost.  This model of dual using a permanent course and adding in movable/event-built obstacles is a great formula that I think other small brands can follow with success in other parts of the country.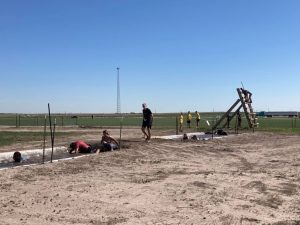 Obstacles that were part of the permanent JROTC course included over/under logs, wooden A frame (actually the weaver but we walked across the top), inverted ladder, six-foot wall, Tarzan rope swing (actually the Swing, Stop and Jump obstacle), monkey bars (we only used about half the distance before dropping down) and wooden Xs that you can to step over.  The wooden Xs were surprisingly tiring as we were instructed not to use our arms.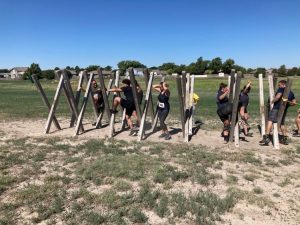 The first obstacle we encountered was a pool we jumped into then after each obstacle it felt like there was two mud/water pits that you had to low crawl under.  Not something that would normally tire me out but doing obstacle and back-to-back low crawls made something that is normally an easy obstacle into something that is tiring.
After a series of mud pits you can jump over and the ¼ mile sandbag carry around the track, the course had an uphill tube low crawl.  Finally, a series of about 20 tires you had to climb up/over and a giant slip and slide wrapped up the event.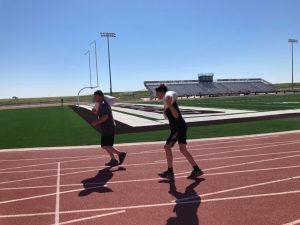 Race Types:  The race obstacles and course exceeded expectations but to me this was the highlight.  At most events there is only one format.  With The Siege there was a ton of options including: Individual Competitive, Individual Open, Team Competitive, Team Open and Mini-Siege (kid's course).  What was cool was that they not only recognized top three in the two competitive categories but also top three in the open and the mini categories.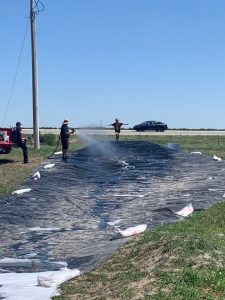 This was a great way to help ease people into the competitive side of the sport.  It also allowed more people to be recognized for their hard work, something that is always nice to see.  I ran the individual competitive, took about an eight minute break and then ran the course again as a team.
About two hours later the course transformed, cutting off about 2 miles of the middle, into the Mini-Siege.  The kid's course used the first half mile and last half mile of the adult course thus requiring minimal adjustments and a distance more suitable for most of our younger athletes.  I had the pleasure of pacing my seven year old daughter for the kid's course, her first competitive OCR.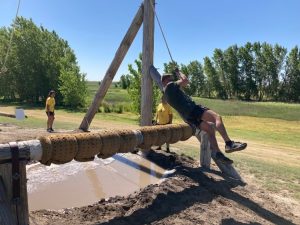 Festival:  The festival had music, beer, water and snacks for participants all under a covered awning with tables and chairs.  The Marines also had a recruitment booth that included a pull-up contest where you could win some Marine swag.  Add in some games off to the side like cornhole and it was a good place to hang out post-race to enjoy your accomplishment.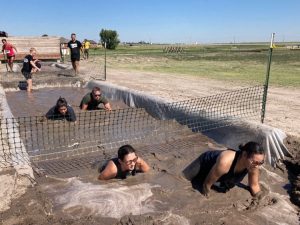 Overall:  The Siege was a fun course at a cost substantially lower than major brands.  The multiple event formats including team, competitive and kids in both individual and open formats providing an avenue for anyone to feel comfortable.  There were race volunteers at almost every obstacle making the entire experience feel very welcome and friendly.  Overall, I enjoyed The Siege and thought it over delivered for the price you are paying for entry.  My family used it as an opportunity to hit up Dodge City on the way back for a tourist trip to the Boot Hill Museum (like a Wild West museum).  It's a local race but something I plan on trying to work into my schedule in 2022.
Pictures provided by Strength & Speed