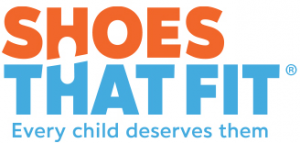 For Global Running Day on June 1, 2022; the parent company of Rugged Maniac, Ventures Endurance, is partnering with Califonia-based non-profit Shoes that Fit to make a difference in low-income children's lives.
From Shoes That Fit:
Shoes That Fit tackles one of the most visible signs of poverty by giving kids in need new athletic shoes to attend school with dignity and joy. Together, we can make a difference to kids in need. We can alleviate this simple burden. We can stop bullying by making sure no child is wearing shoes that are too old or smelly or too inappropriate.

Since our founding in 1992, we've provided over 2 million pairs of brand new shoes and other necessities to children across the United States.

Our vision is that, one day, every child in America who needs new shoes gets new shoes, allowing all children the opportunity to reach their highest potential
Ventures Endurance is sponsoring a virtual race on Global Running Day. The race costs $10, and you will receive a virtual finishers certificate, and bib, a $5 donation will be made to Shoes that Fit and you will receive a $15 discount to any non-biking Ventures Endurance Event which includes Rugged Maniac, Hot Choclate, the DC Virtual series, among others.
From Ventures Endurance:
As walkers and runners who participate in race events, we know how important shoes are. Shoes That Fit believe that no child should have to "sit out" of gym or extra-curricular sports because they don't have a pair of shoes! Access to a healthy lifestyle and experiencing the joy that comes with exercise should be for every kid, and by starting a GoFundMe for Shoes That Fit, you are helping kids who don't usually have shoes throughout the United States. We believe every kid should have the same proud feeling.
Shoes That Fit Feature Video from Shoes That Fit on Vimeo.
To learn more about the event and register: Registration
To learn more about Shoes That Fit: Shoes That Fit