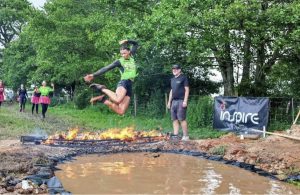 Brampton, Cumbria, UK is home to a small obstacle race called Gelt Gladiator.
Being a seasoned OCR fun runner,  I was quite excited to try out a new race.
The first obstacle was a muddy trench about 10 metres from the start! Then the mud just kept on coming. Cargo nets, walls broke this up. There was an abundance of obstacles cage crawls, monkey bars,fire jump, electric shocker, tunnels, cargo nets, and all this in 1 lap of 3 miles!
Now to the slide, the highlight of my day, 100 metres long.  A simple but most effective slide with a marshal at the end to give you water and paper towels to wash the soap suds off your face.
This race is definitely going to be a highlight in my racing calendar for the amount of laughs and fun we had.  No timer, no competitive wave, just pure giggles, a nice change.
Sunday has a 4k wave for children so definitely one for all the family.
Definitely recommend you take a look.
Find out more about Glet Gladiator: https://www.geltgladiator.com/
Would you like to review your last race? Please submit your race reviews to Russ@OCRbuddy.com for submission.