The first quarter of 2022 has seen the Mud Gear- Battle of the Lions Pro Team take to the course at American Ninja Warrior, Hyrox,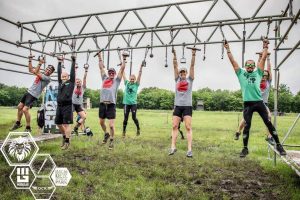 and Spartan to start. They reflect on a successful first three months of 2022.
OCR Buddy is a proud supporter of Mud Gear- Battle of the Lions Pro Team. 
1) American Ninja Warrior: We had two athletes, Jay Flores and Evan Perperis, compete on American Ninja Warrior Season 14.  The episodes haven't aired yet so we can't tell you how we did but we suspect we will get some air time.
2) HYROX:  One of the newest events in the last year has been HYROX, which is running plus workout stations, kind of like endurance CrossFit.  One of our athletes, Brint Hastert has made quite an impact in that world already finishing 3rd at a regional event, 1st mixed doubles at another regional event and 6th overall at the US Championships.
3) Spartan Races:  A new addition to the team this year has been Rachel Watters (you may have seen her finish 3rd recently at GoRuck Games).  Rachel regularly races Spartans and has already strung up some early 2022 podiums including 3rd Jacksonville Super, 3rd Jacksonville Sprint, 1st Atlanta Super and 2nd Atlanta Sprint.
4) Savage Race Point Series:  We've got two athletes looking to make an impact in the Savage Race points series.  Rachel Watters already has two top five finishes and Miranda Huber has two top ten finishes.  Based off their obstacle proficiency and consistency this sets both of them up really well to finish strong by the end of the year.
5) Local Races:  JAN-MAR is usually a slow start but our athletes have been getting out there racing already including events like Valentine's Day Massacre (1st Male Brint, 2nd Male Evan), KCOCR Winter Throwdown (1st Male Evan, 1st Female Jenny Overstreet) and KC Timber Challenge Yeti (1st Male Thomas Plush, 2nd Male Evan and 1st Female Jenny).
6) Ninja Competitions:  While not televised like the show, we have two athletes who have been doing well in early season ninja competitions. Doug Snyder qualified and made it to National Ninja League Word Championships along with Jay Flores.  Doug, a masters athlete, wins his age group so often in local ninja competitions it's no longer news to us.  Jay scored three early ninja podiums including 1st at 305 Ninja Academy, 2nd at UNNA World Ninja Athlete Games in Puerto Rico and 3rd at the Puerto Rico Ninja Warrior Competition.