Rachel Watters is a member of the Mudgear-Battle of the Lions Pro Team, was the 2021 OCR Community Choice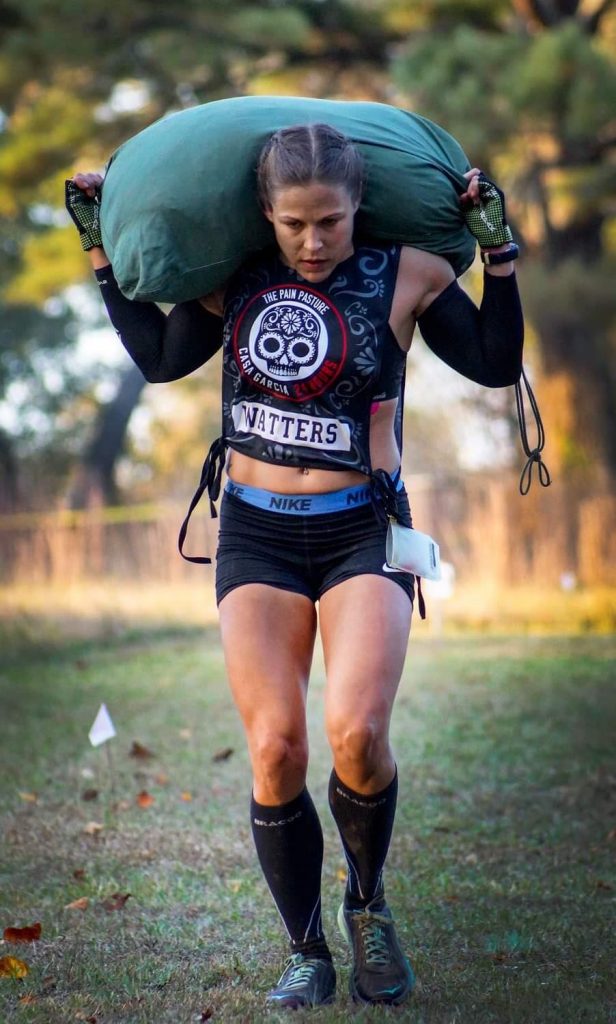 Awards Runner-Up Female Athlete of the Year, and regularly finds the podiums from 5k to 24-hour events. She mentors Lion Hearts Fitness and believes that "the impact you make as a human and how you treat others matters."
We introduce Rachel to you as she becomes the next athlete to be part of "10 Questions with…."
When did you start in OCR, and how did you find it?
In March of 2015, my first race was a Spartan Sprint in Atlanta. I had competed in a local trail half marathon the month before, and another racer told me about it. I showed up in over my head and had not quite done my homework; I was unaware of the 30 burpee penalty and had no clue how to climb a rope or do obstacles. It was the toughest thing that I had ever done, and I was pretty beat up after, but I instantly fell in love…I was immediately hooked.
When did you realize, "Hey, I am good at this"?
At my first race (the Spartan Sprint), I placed 7th out of nearly 1,500 women in the open wave. I can still remember seeing those results; it was a profound fork in the road in my life. It was the first time I could ever remember feeling "good enough," and I had enjoyed the race so much! My second OCR was a Savage Race in Atlanta the next month – I signed up Pro and never looked back from competing at that level.
What is your personal highlight to date in OCR?
It is difficult to pick just one highlight; I have had so many incredible experiences with obstacle course racing. I did narrow it down to three for you:
Winning Savage Race Atlanta Fall 2021, which was my first Savage Axe and a big benchmark for me in a personal journey of eating disorder recovery
Hitting 80 OCR miles at the Casa Garcia 24 Hour Enduro Race in 2020, my biggest endurance accomplishment to date
Runner up for "Best Female OCR Athlete of 2021," OCR Buddy's People's Choice Awards. Being nominated and voted into this position by the race community was extremely significant and humbling.
How do you handle the mental toughness of the sport on the course?
I struggled more with competition nerves and anxiety prior to races; leading up to events, I would stress and worry about who else was showing up, what my placement might be, and how I might perform on the obstacles. I spent so much time fearing the potential outcomes that it sucked the joy out of racing for me. I had a "defeatist" mentality, and my head was full of negative self-talk and doubt. Through meditation and self-reflection, I have learned that I have the choice to see things through a lens of gratitude instead and that the way that I talk to myself matters. Circumstances do not define us; how we approach them does. Deciding to focus on gratitude and treating myself with compassion has been the quickest way to turn around any negative headspace that I find on course.
I also try to focus on the "big picture" viewpoint that racing discomfort is temporary and insignificant in the grand scheme of things. The intentional adversity that I seek in a race is nothing compared to the hardships and struggles others face in their daily lives all around the world. People experience and overcome the suffering that is far beyond the "first world problem" discomfort of an OCR. That concept usually sobers me up enough to stop feeling sorry for myself when the going gets tough in a race. I also try to remember that nothing that a race course can throw at me is more difficult than the obstacles that I have faced in my personal life.
When you are in a starting corral or know you are entering it soon, how do you prepare physically and mentally?
My pre-race routine is usually about spending a few final quiet moments with myself to clear and calm my mind and get ready to compete. This includes warming up solo in the festival area, listening to my hype-up music, and writing mantras on my hand or arm in Sharpie as reminders during the race. I do not have a fierce competitive drive in competing against the other women, and I am usually just focused on getting ready to race myself.
You are a coach and work with Lion Hearts Fitness; how did you get involved and tell us how that helps you, what that means to you?
I met the Lionhearts crew at a race in 2020 and connected immediately with Shell and her son Luccketta. I was so moved and inspired by their mission: a non-profit that provides free OCR training and racing for kids to help them build confidence and develop life skills for on and off course. Becoming involved with their program has been so meaningful for me because it is an opportunity to make a positive impact in the life of children (and hopefully leave the world a little better than I found it). I believe that we can improve our world and future by teaching the next generation resilience, compassion, and the importance of community. Lionhearts does this through the vehicle of OCR, which makes it easy for me to love.
How do you track your self-perceived weaknesses, and how do you improve them?
It can be tough to track all my weaknesses – the human potential is limitless, and our pursuit of excellence is never-ending. Once I develop one area, I find another that needs improvement; when I reach my initial goal, I set the bar higher and get back to work.
I have found that the best way for me to improve and strengthen my weaknesses is in developing daily routines and habits that help me establish self-discipline and hold myself accountable. In approaching my everyday life and choices, I ask myself, "does this move me closer or further away from my OCR goals?" When I frame things in that perspective, it becomes easy to make sacrifices and do the hard work.
What advice would you have for someone looking to take the next step forward in OCR?
Whether someone is looking to try their first race or step it up to a more competitive division, I would tell them not to be afraid to get uncomfortable and face adversity head-on. Nothing on an obstacle course is impossible; it is just hard. You must let go of fear, silence self-doubt, and be willing to throw yourself into the fire and do the hard things needed to move forward (both on course and in life).
You are very well-rounded and can compete in anything from a short course to 50K trail races to 24-hour races. Are there some that enjoy more, and how does the training/mental preparation differ for each?
I love challenging and pushing myself and enjoy the variety of events that are available for OCR athletes. Each race type is unique, providing different opportunities for growth and allowing me to venture into new mental and physical territory. It is hard to pick, but I prefer longer events (Ultras and 24 Hour) and mandatory completion events (Battle of the Lions, Savage Race, OCRWC). I also enjoy strength-based events that incorporate heavy carries and lifting.
Because I generally compete in at least 25-30 events per year, it can be difficult for me to maintain different training regimes with specificity for each event type. My approach to training overlaps across race types, but I do focus on increased mileage in preparation for longer endurance events. My training is predominately running, high-intensity interval training, swimming, and yoga. I prefer functional movements to traditional weightlifting and always opt for dynamic compound movements in my strength training.
What would surprise us to learn about you?
I did not play sports growing up or come from an athletic family. I walked onto the track team in high school (I was not very good) to make friends and get healthier. I maintained a relationship with road and trail running as an adult until I stumbled into OCR in 2015. I would have never imagined that it was in the cards for me to be any sort of "athlete." I think that plays into my current mindset and approach to OCR, which is competing as a hobby and for fun. Even as I advance in rankings, I still do not identify myself as an "athlete" or "pro."