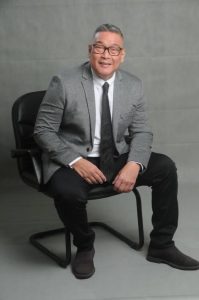 Al Agra is the President of the President of Pilipinas Obstacle Sports Federation, the Obstacle Sports Federation for Asia, General Counsel to the Philippines Olympic Committee, and the Treasurer for World Obstacle. There are very few people in the world with as much knowledge and involvement in the sport of obstacle racing. The Philippines is leading the world with its ingenuity, events, and abilities as an organization. Let's hope the rest of the world can catch up to them.
We were lucky enough to convince Al to spend a little time with us, let us learn a bit about the man behind all the titles, and join us as the next guest on "10 Questions with…"
How did you get introduced to obstacle course racing?
I joined my 1st obstacle course race – Spartan Sprint Open at San Diego, CA – in September 2016. I was looking for a sport or activity to enhance and complement my well-being journey. To date, I have joined 35 OCR events.
You are the current President of the Pilipinas Obstacle Sports Federation. For those who don't know, POSF is a leading Federation globally. How did you assist in building it from the start in 2017 to setting the Guinness Book of Records today?
POSF started with and continues to thrive today because of our community-with-a-purpose. All members love the sport, propelled by wanting and doing more, believing in "advertunities" (creating opportunities from adversities), and staying attuned to our core value of "building better humans." Doing firsts in the World for World Obstacle keeps us driven. The Philippine Open OCR 100m, where the male and female champions broke the World Obstacle World Records and set the Guinness World Records, is a testament to this pursuit and mission.
In working with POSF, what have you been most proud of to date?
The People – athletes, coaches, and members. They are the reason why POSF exists. We help build better humans and build active communities. We help make OCR champions and champions in life. POSF exists for them.
You have had a very successful and prominent career outside of POSF. You have been Justice Secretary and other positions appointed by the Philippine Government. All impressive and further shows your love for your country. Tell us about the pride of representing your entire country in your appointments. How strong is that pressure?
Pressure is strong as expectations are high in all my roles – POSF President, Government Official, Law Professor, Sports Law-for-All Advocate – as my roles affect people's lives. This is both a privilege and a responsibility. But like all athletes in Obstacle Sports, pressure makes us more resilient in the pursuit of "advertunities" (creating opportunities from adversities).
What do you do to relax and to have fun away from the daily pressures?
I nurture time with the family. The whole family has started a new sport – Padel Tennis. I also treasure time spent with the POSF Athletes and colleagues in my government office. I believe that as a sports servant-leader, I must be with the athletes not only at the start and finish lines and podium and their life journey, but also in races (although they are much, much, much ahead of me).
What has been your favorite obstacle racing memory to date?
As an athlete, my first race is memorable because I raced with my son, Noel. As POSF President, watching our athletes finish are treasured moments.
Turning from the past to the future, tell us a little about the OCR Track event coming up on May 14-15?
This event is another first. There are 2 tracks – OCR 400 and OCR 800 – where 12 obstacles (including laser pistol shooting) will be on the track oval. There are individual categories for elite, age groups, and athletes with disabilities. We are looking forward to the Team Relay – 4 x 400m – for all-male and mixed categories.
What do you envision as the future of obstacle racing, and what would you like to see happen (and how soon)?
More – more multi-sport events, greater recognition, more activities, and more active members and federations
What would surprise us to learn about you?
I look forward to turning 60 next year. I am preparing for international competitions in my age group, not just in OCR but also in the javelin. That was my sport in College. I have already joined one event prior to the pandemic. I might even venture into Throwing Pentathlon. I also plan to join Open Padel Tennis competitions.

Lastly, "Adverturnity" is now permanently stamped on me. That word is now my 6th tattoo. All my tattoos were all done during the pandemic.
Open Floor. The keyboard is yours. What else should we know about you? What did I not ask you about that you want people to know?
I am a firm believer in building a learning ecology – learning-unlearning-relearning. I invite all to be part of this.