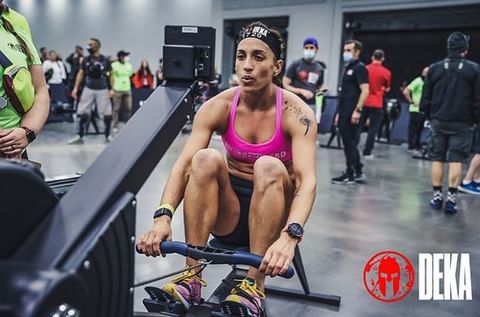 A few years ago, I interviewed @alexandra_tx_ranger (Alex Walker) and called the article, "The Best OCR Athlete You Never Heard Of". That has obviously changed.
Through her training and perseverance, Alex had positioned herself into one of the top athletes in obstacle racing today. She does that while balancing training, life, and work. We thank her for her time, and we welcome Alex as the next guest on "10 Questions with…"
What was your introduction to obstacle racing, and what was your initial reaction to the sport?
Tough Mudder, and I wished it was timed, but I had fun.
Obviously, the journey from the beginning until now has been a long steady progression. What are your best memories when you begin to think about from where you started until where you are now?
The growth from when I started is awesome to look back on. Especially watching my running progress.
I know from previous discussions we have had the importance of being a mom. You recently posted a video of your son at DEKA. What are your emotions watching your son compete, and what do you believe that watching you as an athlete has taught him?
I honestly love watching my son now join me in the Spartan and Deka world. He is having fun which is the most important part. He used not to be competitive as a child, but as a teen, it's finally showing. He has also turned into my training buddy. He paces me for speed work (yes, he is faster in 400s and the mile), and we mountain bike together.
You are also a Registered Dental Hygienist. Balancing work, training, and racing has its difficulties. How did you find the time to balance it all while excelling at the sport?
I'm lucky enough to have a very flexible job, and my employer is super good to me about training and taking time off. I train in the morning before work and then in the evenings before dinner time. During my evening workout, my son joins me.
What are your typical training sessions like?
Right now. A lot of climbing work for the mountain races and some speed work sprinkled in. I do some strength training at Ironfit (@ironfit_sanantonio). In the last 6 months, I've added mountain biking, and it's been a blast.
Do you change depending on upcoming races, and what is your favorite part of training and least favorite?
Training is always changing depending on the races coming up. And I'm the worst about mobility, but I'm working on it.
What is your favorite obstacle racing memory?
Spartan world championship Tahoe I enjoyed the obstacles being hard, and it was snowing.
When you step away from the racing and training, what is it that you do to relax and have fun?
I read a lot, and I cook or bake with my son.
What part of your life, outside of actual training, do you feel has helped you the most in your ascent in the sport?
That I'm stubborn and competitive, which drives me to train and keep unlocking a better version of myself
What advice do you have for anyone starting in the sport?
It does not happen overnight. Enjoy the process and keep chipping away at your goals.

What are your plans for the rest of the year?
The Spartan North American Series, OCRWC, and who knows what else I'll sprinkle in.
Previous 10 Questions: Race Ready Obstacles