On April 30, 2022,  I was presented a chance to run a local OCR Event in my home state of North Carolina.  The Bear Crawl OCR.  The Venue is located in Morganton, North Carolina.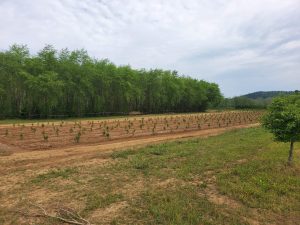 About Bear Crawl OCR –  The Bear Crawl OCR was created to replicate the obstacles and challenges we face in life.  Life is hard, and sometimes doing a crazy obstacle course race or mud run can change our perspective on what's possible in our life.  The Bear Crawl OCR is a 501 c3 non-profit organization focused on giving back to our local community. (per the about us section on thebearcrawlocr.org)
RACE OPTIONS:
6 MILE – ELITE WAVE
6 MILE – OPEN WAVE
3 MILE –  OPEN WAVE
1 OR 2 MILE – CUB CRAWL (AGES: 5-12)
On Saturday of the event, I woke up and hit the road as I had a 2-hour ride ahead of me.   The event was held at a Nursery, and upon arriving the visuals, you were blessed to witness were breathtaking.  Mountains in the back-drop,  a Smoky Haze in the air, and dew on the ground had me eager to get out of my car and warm- up.. the excitement for the race was boiling inside me!
Now the time had come to lace up my Salmings and take on The Bear Crawl Head on!  Quick Answer-  The MOST Physically Taxing Race I had ever run in the world of OCR.  This race was less about your "Ninja Skills"  and more about the Power and Strength you Possess.  This Race had Multiple Rigs that were fun and challenging, but the Multiple Carries of all variations.. Sandbags, Atlas Stones, Bucket Carries, and even a Log Carry Between your legs!  All of these Truly Testing your overall Strength levels.  After a few of the Carries, I had complete spaghetti legs afterward.  The Rigs Provided may not have been the most skill challenging obstacles they were nonetheless very challenging by putting your grip strength to the ultimate test!  Bear Crawl Even offered some very cool Tunnel/Pipe Crawls that I found very unique, multiple river crossings as well as a water slides to cool you down in the middle of the race.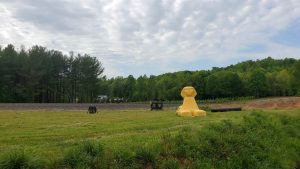 Between your obstacles, the beautiful sights the venue offers throughout are breathtaking.  Making the run between so enjoyable, I caught myself just staring off while I was running a few times.  I am returning to this event next year for the views alone.
PROS –
The Venue
Getting in and out of the Event as well as the registration table was so smooth (unlike most bigger Race Brands)
The Variety of Strength-Based Obstacles
The Staff –  Everyone is Super friendly and very excited to have you there!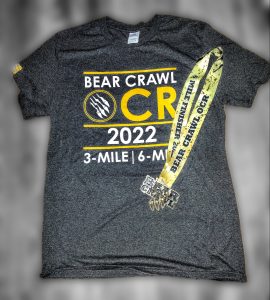 The Swag/Bling-  They offered one of the Sweetest Medals, Shirts and a bag of goodies to take home for each racer (Provided in a bag with your name on it at the end of the race)
Loved the Feel of a Non-Major Brand.  (The only word I can come up with to describe it is Refreshing)
501 c3 Non-Profit Organization
Cons – (Note I had very few complaints, this is me being knit-picky)
Should Extend the Event Hours (In case you want to race both versions of the Race, you will have time to do so)
Some areas of the Course Need to be cleared/Marked a little clearer in some areas
I need a few more "Ninja Skilled" challenges
Would Recommend a Rope Change (ropes used really dug into your skin and wear at times painful)
Final Thoughts about Bear Crawl OCR:
I CAN'T WAIT FOR 2023!  Overall this race was amazing!  The Swag is So sweet!  The Staff was so full of energy; they boosted yours with the vibes they were putting off alone!  I would highly recommend anyone in the surrounding areas that want to try an OCR Event. This is a good one to try!  It was a blast.  One of the best times I've had at an event and on course.  The feeling I had when I finished that race was like no other. I hung around for almost two hours afterward, taking it all in and loving everything about it.  I caught up with the More Heart Than Scars Race team out there.  Their team was represented well by the racers they had on the course.  So again,  if you are an experienced OCR runner, this will be something totally new to you… Try The Bear Crawl in Morganton, North Carolina!  I'm sure you will love it!