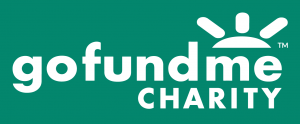 Every year I do a self-created Ultra-Obstacle Course Racing (Ultra-OCR) charity event.  They often get progressively more questionable each year in the past have included things like 24 hours of treadmill OCR, 48 hour multi-lap, 8 day of 8 OCR marathons in the winter and 2022's climb the height of Everest while doing obstacles.  When I was looking to fundraise in 2022, I had a friend suggest GoFundMe.  "That won't work", I thought, "I'm raising money for a charity, not myself".  This is where GoFundMe's 'fundraise for a charity' feature comes in.  Something which I wasn't tracking before this year and something you may not be aware of either.  Here's a rundown and why you may want to use them to help your favorite charity:
GoFundMe Charity:  GoFundMe is a well-known fundraising platform usually used by people to fundraise for personal expenses or hobbies.  However, it is just as easy to start a GoFundMe fundraiser that benefits a charity or nonprofit you care about on the  charity portion of their website.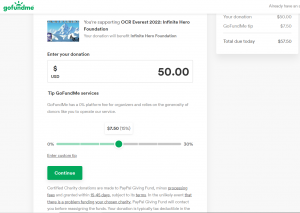 Why Choose GoFundMe Charity:  The main reason I chose to use GoFundMe is ease of use.  Setting up a page, making edits was very easy to do.  After misspelling a couple of words, I went in and fixed them no problem.  Additionally, the website links directly to your charity of choice.  This ensure that when someone donates, it ends up directly in the hands of the charity avoiding any possible middlemen of transferring funds.  Finally, there is a 0% platform fee so all of you donation is going towards the charity.  The website gives you an option to add additional money to your donation if you want to say "thanks" to the GoFundMe charity organization.
Benefits Over Other Sites:  Historically I have used a popular social media app for fundraising. However, a perk of GoFundMe is they allow the fundraiser to stay up much longer allowing you to collect donations early and then continue to collect them long after the event is over.  My fundraiser is still active for OCR Everest's fundraiser for Infinite Hero Foundation (donate here and see the video coverage of the event below).
Overall: GoFundMe is a trusted brand that is well known.  What is not as well known is their charity fundraising option.  If you are looking for a good fundraising site that is easy to work with, stays open longer than others and is a trusted name, you should check them out.  When you want to raise money for a charity you care about, whether it's for an endurance event, your birthday, or just because, chances are GoFundMe Charity will be able to facilitate your efforts no problem