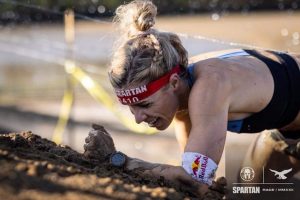 Ida Mathilde is a world-class Red Bull sponsored Danish athlete with multiple successes in obstacle racing since she began racing. While her recent successes may be new to some here in the United States, the Europeans have been watching her stand on podiums for years. She has goals and a plan to get there, and we are thankful that she took time to join OCR Buddy for "10 Questions with…Ida Mathilde Steensgaard"
How did you discover obstacle course racing, and what were your first impressions?
I did my first race in 2013, with my today OCR coach Thomas Johansson. Was a bit afraid at my first race, as I thought it sounded quite extreme with all these obstacles. But I loved my first race, he so much fun – and signed up for a lot more that year.
When did you realize that you were good and could perform at a top level?
I won my age group in 2015 at OCRWC (18-24 age group) and enter this I felt like I wanted to take it to the next level, and as I could see the gap between elite and age group, I started putting in more focused ocr training, got myself a coach in 2017 (Thomas Johansson) and from there we worked hard towards getting top 3 at OCRWC pro, which I managed in 2018 getting second in the 15K
How often are you training, and what are your typical training sessions like?
I train between 15-22 hours a week. It's a mix of run, cardio, strength training, bouldering and specific grip/technical obstacle training.
Your success started in Denmark and Europe and then transferred to the world events; what did it take to get to that next level? What concern did you have, if any, and what did you do to take that step to become a world elite?
Well I competed in Europe for some time, and the competition is really hard especially in Denmark and Sweden, so this helped me push my level. I love to compete and challenge myself, it sometimes feels like a part of my DNA so I started racing in US specifically trying to find events with the hardest possible competition to be better prepared for OCRWC.
How does European obstacle racing differ front he racing in the United States?
Obstacle course racing in Europe is for sure more technical than Spartan, it reminds more of Savage Races and there is almost at all races besides Spartan a full obstacle competition rule – so you must complete all obstacles.
What has been your favorite event to participate in, and what event have you been most proud of?
My favorite event was OCRWC in London 2018. With tons of obstacles, a wet slippery course which was extremely challenging. This was also the first time I participated in the pro series, and I got second this year after Lindsay Webster on the 15K and this was properly one of my proudest moments as I have never expected to do so well for my first time doing the pro wave.
What advice do you have for people looking to start obstacle racing and those looking to step up to the next level?
My best advice is to just go race! Many want to be sure of and X level of fitness, but what I have found is I have enjoyed and been positively surprised from each race. Especially if you go in with the mentality of doing your best, and then taking all the things you feel like "did not go well" and turn into, I then for my next race want to do better – using it as feedback for your training for the next period.
What is your race day preparation like? Is it different for 5k or 21k? What do you do the night before and in the morning to prepare for an event?
I do carb-loading more the days up to a longer event, but usually my prep is pretty much the same. I love, if it's possible to go see the race site, so I have a better mental picture of race. I also spend quite some time looking at the race map, and then I eat healthy and good carbs the day before.

On race day I fuel best on oats, bananas and Red Bull 😄
What do you do for fun when not racing or training?
Well I love to go winter bathing with my mum during winter time. I am generally a very fan of outdoor life, and travel a lot with my husband around the world. We love Denmark, but we both have this deep desire to explore the world. So that we do a lot. Lastly sometimes I like to do puzzles to calm down, because then I can only do 1 ring at the time 🙈
Tell us about Ida. What would surprise us to know about you?
Well I have a quite mixed childhood my mum being a minister/priest and a dad a world class scientist who has worked for NASA. So it's always been exciting with their differences and similarities. I have gone to school in Australia (x2) and US in Maryland.

I wasn't always a professional athlete, I am a educated environmental engineer – I have work almost all through my athlete career having various weekly hours in my consultant job at a big danish pharmaceutical company (Novo Nordisk) the last 6 years.

I have a few things I have struggled with as young, having Asthma and being dyslexic… so I have had to work extremely hard on these things, but have also experienced that with persistence results will come. So a final note, is I always say never be afraid to Dream upstream, because with this mentality you will allow yourself to dream big and work for your goals😄
Bonus Question – What are your plans for 2022
My plans for rest of 2022 is to after SLO, returning to Denmark focusing on my next big goal beeing the European championships in June. After this a build towards OCRWC (returning for US here) and maybe also the Spartan Europ champs and world champs 😃