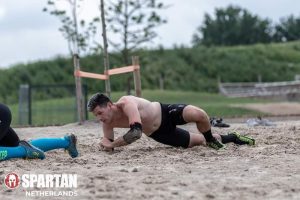 John de Haan, from the Netherlands, was the runner-up winner of the European OCR Community Choice Awards for para Athlete of the Year. He is a former Para-OCR European Champion and Para-OCR World Champion. He also was on the podium for the Spartan Para World Championships. He is an inspiration to many with his attitude and belief that if you think it, then you can do it.
John's efforts have led to the first-ever Spartan Para Zandvoort Night Sprint and Competitive Super on May 28th and 29th. He took a few minutes and joined OCR Buddy for "10 Questions with…"
How did you get started in OCR?
It all started in 2014 when I did my first Obstacle race with the Dutch mud men.
I had no idea what I could expect. Also, obstacles were completely new for me.
What has stayed with me the most of this run is the solidarity of the group. Ultimately, this also persuaded me to continue with this sport.
Initially, what were your thoughts about OCR as a para-athlete?
In the beginning, I was not at all concerned with the thoughts as a para-athlete.
We were with a group of para-athletes who mainly wanted to have fun on the course. Later in 2017, when I started with OCR competitions, I started looking more at solutions for para-athletes. The challenge for me was not to adjust all the obstacles but finding a solution how to beat the obstacles.
When did you realize how good you were at the sport?
I started to realize it when after 1 year of competition, I raced against able body people. It was possible for me to finish in the middle of the field; I also qualified for the World and European championships. My thought was: "okay if I can beat these guys, what is possible if I only race against other para-athletes?" and that was the beginning of a completely new goal.
How has OCR inspired you and others about breaking through limitations, whether internal or external?
OCR was one big challenge for me; after each race, I had made some progress. That little bit of progress was/is always my biggest inspiration. It gives me the energy to continue and find new ways to beat an obstacle or to train harder for the next race. I hope that I can inspire other people with my achievements and that they do not think that they are not able to do this sport.
Explain what is happening at the end of May in Zandvoort?
On the 28th and 29th of May, we have the first individual Spartan para race. I started with this idea in 2019 after the Spartan para team world championships, and finally, it will happen—a real milestone for the OCR sport.
The distance is going to be the Super 10 km, and we have three different category's
– Disfunction Hand
– Disfunction Leg
– Wheelchair
As a para-athlete, what does that say to you about the future of para-Athletics in OCR?
For me, is Zandvoort a really big step; adding OCR-para to the competitions was my biggest goal the last few years. Because I think that not every para-athlete wants to race against able body athletes. So in the future, I hope that adding this competition will again attract new para-athletes. If that happens, we can also look at broadening this branch. Adding Para to the worlds and Euros is the next step.
How often do you train?
Most of my training is based on running performance. In my opinion, you can win the most time in a race with running. I have a training schedule with 3 running sessions in a week. And once a month, I go to an OCR training center to train the obstacles. Also, full core training is part of my training, but I do most of the training with my body weight; you will never find me in a gym.
And I train a lot of burpees because you can win or lose a lot of time by doing burpees as a penalty.
What words of advice do you have for other para-athletes already in OCR or those who aren't sure of their limitations?
Keep trying new things sometimes; it takes a lot of attempts before you find the right way to beat an obstacle. You can do a lot more than you think.
What do you enjoy doing when not in OCR or training for it?
I play in a soccer team and love to play escape rooms.
What is something about you that we don't know?
Before my accident in which I lost my right hand, I was anything but sporty. I always liked running, but I had no motivation at all to do it. My disability has actually caused me to look for my limits. OCR has really become the perfect challenge for me, from which I also get a lot of things that I can apply in daily life.
I think if I never lose my hand, I never get started with OCR
Follow John on Instagram: John De Haan