James Burton is an elected Director of the United Kingdom Obstacle Sports Federation and a top obstacle racing athlete. He has competed around the world and is preparing to represent his country at next week's European OCR Championships in Italy.  James was kind enough to join us as the next guest on "10 Questions with…"
How did you find OCR, and what was your first experience with the sport?
My first OCR race was actually in America in 2013. We were spending two amazing years living in Portland, Oregon where I was fortunate to be working with Nike on their digital marketing and website. I had seen the buzz of this new obstacle race craze back in the UK, but hadn't had time to take part. So I made the jump, dragged the family along, and went to Rugged Maniac. I came 10th overall and was instantly addicted. I had so much fun getting muddy and completing all the obstacles. It was such an adrenaline rush.

I very quickly signed up to more races in the area – Spartan, Tough Mudder, Warrior Dash and a local event called Race the Reaper.
What was the event/moment when you realized that you were good and wanted to get to the next level?
Good is subjective. I believe the great thing about OCR is that there are so many ways to get better regardless of your level. Run faster, improve obstacle technique, become stronger, eat better, get more agile, become mentally stronger, better balance etc. etc. – the list is endless. I truly believe that there aren't many sports that can test the all-round capabilities of human performance like OCR – especially from an endurance perspective.

I knew from the start I wanted to get better and have worked hard to make steady progress ever since. Although it did take me about 3 years to learn how to climb a rope!
You have raced in various parts of the world. What has been your favorite venue, and what moment in OCR sticks out as your favorite?
That is such a difficult question. In nine years, I've completed 157 obstacle races in 14 countries (yes, I have a spreadsheet) around the world, so I'm probably going to mention a few moments and events.

Venue wise I have to go with the first OCR World Championships event I did at King's Domain, Ohio, and the Spartan Ultra World Championships in Iceland. The terrain and course at both venues were epic and so much fun.

Pippingford Park in the UK has always had something special about it. I recall being completely unprepared for a brutal Spartan Beast in 2014 and staggering home in 86th place.

Moments-wise, it is hard to beat the experiences I've had at the OCR World Championships over the years. I wrote about my journey to Age Group World Champion on my blog and stepped back up to Pro wave in 2019 and coming 22nd so that I won't go into too much detail here.

I've raced at every OCR European Championships to date, and these have always been wonderful experiences. I've never had a flawless run but always battled through on the 15K to keep my band. This test of overcoming obstacles always sits positively in my mind, even though it is the right decision for the federated event to move to a new system to address the problems they have had with queuing at obstacles in the past.

The race brands beyond OCRWC I feel like have it right for competitive OCR are Toughest in Scandinavia, OCR Series (organized by Strong Viking), and Savage Race. They all offer challenging courses even for the top racers and are well officiated. While running is still fundamental to who will come out first, obstacle completion is critical. Toughest fast and slow lanes, for example, are great, and those with proficient obstacle techniques can gain places here.

British OCR has a different vibe to it than the rest of the world, so I can't see races like the above coming to the UK anytime soon. Last year I raced Total Warrior, Nuclear Races, Dirty Rotten Scramble, Commando Series, Nuts Challenge, and Wolf Run. Fun, muddy and challenging – connecting you to the great outdoors. This, for me, is the foundation of our sport.

Full disclosure I represent and race for Nuclear Phoenix OCR; however, I have always said that Nuclear Races is the standout race in the UK. While the obstacles are not overly difficult individually the sheer amount of obstacles and variations drain the body overtime. Obstacle agility plays a huge role here, too – something I feel I'm pretty good at, so it plays to my strengths.
You are now the Elected Director of UKOSF (United Kingdom Obstacle Sports Federation). How did you get involved in your country's Federation?
UKOSF had been set up in May 2019, and I responded to a post in November 2019 asking for volunteers. It really is that easy to get involved.

I initially served as Chair of the Competition Committee. I was then Interim CEO for six months, and most recently I was elected to the UKOSF board by our members.
How's it going?
We've made huge strides towards our goals – but there is still a long, long way to go.

Honestly, I underestimated the amount of work that would be required to build a professional organization that can truly develop the sport in the UK. For various reasons, it has also not been as easy as I thought it would be to galvanize the whole community behind the project to hit our required membership targets. While we have over 500 paid members, we need around 1000 more to start our recognition application.

This said I'm immensely proud that we've built a member-based organization that is fully constituted and already starting to make a difference in our country. Working with the UK Sports Councils on what a well-run federation should look like will only help our value to the community and the sport.

The main reason we need to get to the point of recognition as an official sport in the UK is to access funding from the UK Sports Councils. I see organizations like Parkour UK recently being awarded £1.5m in funding for grassroots sports development and I sit with envy thinking about what our sport could achieve with similar funding.
For those that do not know, what is a federation and what are its goals?
Federations act as the national governing body for their sport in their respective country. Every national federation will have slightly different goals – but all will be for the positive development of the sport in some shape or form.

Our mission is to ensure that everyone in the UK can enjoy the endless possibilities of obstacle sports. It's a sport that sees us rolling around in the mud on the one hand to potentially speeding across rigs in Olympic stadiums on the other – with everything in between.

Sharing our purpose from our website, we exist to:

Safeguard the sport so it is always safe, accessible and available to all.
Protect the unique nature of the sport for future generations.
Raise awareness of the benefits of obstacle sports for an active and healthy lifestyle.
Actively promote the sport to underrepresented groups.
Guide and support UK grassroot obstacle sport activities.
Contribute to achieving a net-zero emissions world by 2050.
Develop performance pathways for the most talented British athletes.
Raise the standard of competitive obstacle sports in the UK.
Represent our members at World Obstacle meetings and elections.
Promote the values of sportsmanship, excellence, courage and community.

Point 2 is especially important to me. While we want to gain recognition as a recognized sport we can't lose the essence of what makes the sport great and why it has attracted so many to it who may not be interested in traditional sports.
The UKOSF has accomplished a tremendous amount. What are you most proud of so far?
Overall I'm most proud of the approach we've taken with the organisation. We are laying strong foundations for the future and doing everything as professionally as possible despite the resources we have.

We've not done everything perfectly, but anyone can speak to us and see that we have fair policies in place for licensing, affiliation, becoming a certified coach etc. We've rejected significant offers of promotion (that would benefit UKOSF in the short term) in favour of staying true to these policies and being consistent with all brands and individuals.

I'm also very proud of the UKOSF Time Trials that we first ran back in 2020 as a response to lack of events due to Covid. This came at a critical time for the 21 training centres in the UK who hosted a time trial race format over the 3 month period. We also ran Southern and Northern Time Trial Finals that served as a fitting end to the competition. It created a wonderful community feel with athletes incredibly grateful for the opportunity to still be competitive despite the pandemic.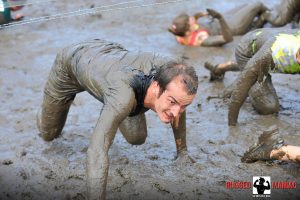 Back to you. How do you balance it? Work. Family. Training. UKOSF.   What is your key to balancing your time properly?
I've done a tonne of research covering the art of getting stuff done to the point that I've got pretty good at it and have given talks on the subject over the last few years.

I'm still a work in progress, but if I was to give a few nuggets of advice and thoughts on the subject:

You have time for everything that is important to you.
We all have the same 168 hours every week.
Remember that everyone screws up and has moments of self-doubt.
Set goals and have a strategy for your life.
Don't forget that sleep is your superpower.

Oh and find a partner that believes in you. Thank you Harsha.
What is in your future for the rest of 2022 and beyond?
Race wise my 'A' race is the OCR World Championships in Vermont. I'll be running Pro again and pushing to place as high as possible.

I'm also competing in the multi race brand UKOCR Series (A competition UKOSF is supporting). I'm currently in first place after three races – but I'll need some more strong performances if I'm going to hold on to that position.

From a UKOSF perspective I was elected to the board for two years in October 2021 and plan to stay in my role until the 2023 AGM at a minimum. It's a massive voluntary time commitment that I'll need to reassess at that point. The focus between now and then is guiding us towards recognition as an official sport while staying true to our mission and purpose. Only five sports have been recognised this millennium in the UK…. I want obstacle sports to be number six.
Last question. What are some things about you that would surprise us to learn?
One of the reasons I try to do as much as possible for the community is that I believe in the power of sport to transform people's lives. You see it so much in OCR and I want more people to have that feeling.

People may be surprised to know that my life could have turned out very differently. In my early teens I was hanging around with the wrong crowd of people, getting into trouble and frankly not being a very nice person. I had a few pivotal moments that if it wasn't for my incredible parents and love of sport (I played a lot of football) may have taken me down a very contrasting path.

We all have a duty to give back to the next generation. Sport and getting more people active is one very important way to do that.
Follow James on Instagram: https://www.instagram.com/ocr_jamesburton/ https://www.facebook.com/ukobstaclesportsfederation
Follow the UKOSF: https://www.instagram.com/ocr_jamesburton/ https://www.facebook.com/ukobstaclesportsfederation