In January, Kelly Sullivan participated at the HYROX North American Championships in Chicago. Kelly is a member of the Spartan Pro Team, Altra Red Team, and an OCR Buddy Ambassador.
I found her experience interesting, and although many people know the name HYROX, the competition itself is not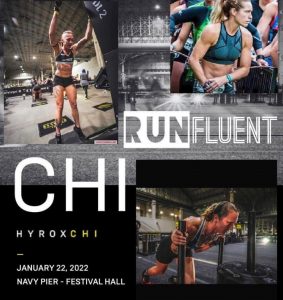 well understood. So for this edition of "10 Questions with…", I asked Kelly about HYROX, her preparation, and about the HYROX North American Championships.
1. Explain to those that don't know what HYROX is what it is?
Hyrox is a hybrid competition that has come over to the US from Germany. They started here in 2019. In my opinion, it is a mix of running and Crossfit. It consists of 8 stations of different workouts or movements, and there is a 1000m run prior to each station. So in total, you run an 8k, and the stations are the following: 1000m ski erg, 50m sled push, 50m sled pull, 80m burpee broad jump, 1000m row, 200m kettlebell farmers carry, 100m weighted sandbag lunch and 100 wall balls.
2. How is it different from straight OCR?
Well, for starters, it is indoors. There is no mud, and it's more workout stations than obstacles. They have different divisions – pro and open for individual, doubles, and a new 4 person team relay. It is also always the same format, weights, and distances, so you always know exactly what you are signing up for.
3. How do you train differently than you train during OCR season?
My training really doesn't differ too much. My running training is with RunFluent, and that is year-round. I Crossfit year-round. I also have a home gym and follow lifting programming during the offseason, but I keep up with it whenever I can. The only real difference in my training is listening to my body, especially as it gets closer to races, so I don't overdo it. This is my 11th season racing, so I've been way better at going with how I feel and using my recovery data from Whoop to help as well.
4. I saw your tracking sheet that you posted after the event. Can you explain what you track, why, and how it helps you?
The Hyrox leaderboard is really cool because it breaks everything down. They have it set up really great because you cross a mat when you enter and leave the Rox zone, which is where all of the workout stations are. This allows us to get our split times for each run and each workout. I was frustrated with my time in Chicago because I knew I had done better, and my fastest time up until then was at least 5 minutes faster. Instead of beating myself up over it, I decided to go to the data from the year before and compare. Since it's the same venue, it was set up almost exactly the same, so I was able to really see that I actually improved my time at that venue which helped me not dwell on it so much.
5. What's your favorite part of HYROX, least favorite?
I think all of it is my favorite and least favorite! The atmosphere is fantastic! If you have done a Hyrox, you will know David, he's a head judge there, and he hypes everyone up all day long. The setup is awesome because everyone is running the same loops, so you can see everyone running and just working their butts off. They make it so spectators can see pretty much everything and cheer you on the whole time, so it is nonstop just hearing and seeing people cheering you on, which helps distract you from the actual race a bit. My least favorite is the lunges – they get me every time. The jello legs after them and trying to run are just really entertaining.
6. Tell us about the atmosphere that day.
It is AMAZINGGGG! As I said in the previous question, the whole event is spectator-friendly. As a spectator, you can see almost the entire event, and most of it, you are pretty close up. As a racer, there are people around you everywhere, spectators other athletes. It is a never-ending hyped-up atmosphere. The volunteers and head judges are so great at cheering you on and hyping you up as well. As much as you're like in a dark place, you almost cannot help but smile through it.
7. How would you rate your performance? Would you do anything differently?
I am really happy with my performance, especially after seeing my improvement from the previous year. I ended up in 10th, only 10 seconds off of 9th, which frustrated me, but I already know what to work on next time. Everything felt controlled and really great; now I just need to redline it a bit more and let go with it a bit more. I had some silly things occur, which I need to fix as well. I wore a different pair of shoes I usually wear, and they had regular laces in them, and of course, one untied halfway through. I ran a whole 1000m with it untied, just hoping it stayed on my foot. I then had to stop, take off my gloves (I am one of the few that do wear gloves for this, personal preference from when I was recovering from my shoulder last year, and now I'm just used to it), tie my shoes, put gloves back on. I'm rolling my eyes typing this because it's such a rookie mistake. All of my other shoes have Caterpy laces in them, and I missed this pair. The air was drier than the year before, which affected my breathing more than I thought it would. I randomly thought I was going to puke at the wall balls, so I had to stop for a good 30 seconds or so just to get myself focused again. All little easy fixes. Otherwise, just going to keep pushing and training for the next one.
8. What amazes you when watching these athletes perform?
These athletes are INCREDIBLE. It is so amazing to see how many athletes have worked to become this hybrid athlete and do so well in this type of event. I was drawn to it right away because I always incorporated Crossfit into my running training for OCR, and I just felt like this fit me. Seeing more and more athletes strive to compete at a pro-level at these events is so awesome, especially when a lot of them are my friends as well.
9. What do you suggest to someone interested in getting involved with hybrid sports?
Have fun with it! Yes, we compete at a high level, but there's so many people that compete in this thinking they're not even going to finish, and then they do and are so amazed at what they just accomplished. Hyrox has a pro and open heat, where the open heat has lighter weights to work with, so anyone can really do it and will still get a great workout from it. If someone is still hesitant, there's the doubles or the team relay where the work is either shared or it's only a portion, so you get to work with others to complete it. I've seen a bunch of athletes start in either the individual open heat or doubles to get a feel for it first before really competing. I would suggest working with the movements and learning the rules and standards for each of the movements prior to racing. Being familiar with it will help while racing and working through the different stations.
10. How did you do (previously answer included her 10th Place finish), and how was that compared to your plan going Top ten?
10th place and really happy with it. My plan going in was just to keep up as much as I could. I don't exactly know where I fully am with racing, so this year is where I really get to see what I am capable of. in 2019 I spent all season in an ankle brace with a foot injury, 2020 was covid so not much of a season, and personally, I was not in race shape once all the races were getting canceled, and in 2021 I was recovering from shoulder surgery all year. I am recovered and fully healthy, so now I can really see what I can do. I went into the race without any big expectations, and I am happy with it. Now I can really work and push to see what I can accomplish this year!
You can follow Kelly's journey on Instagram: Kelly Sullivan IG