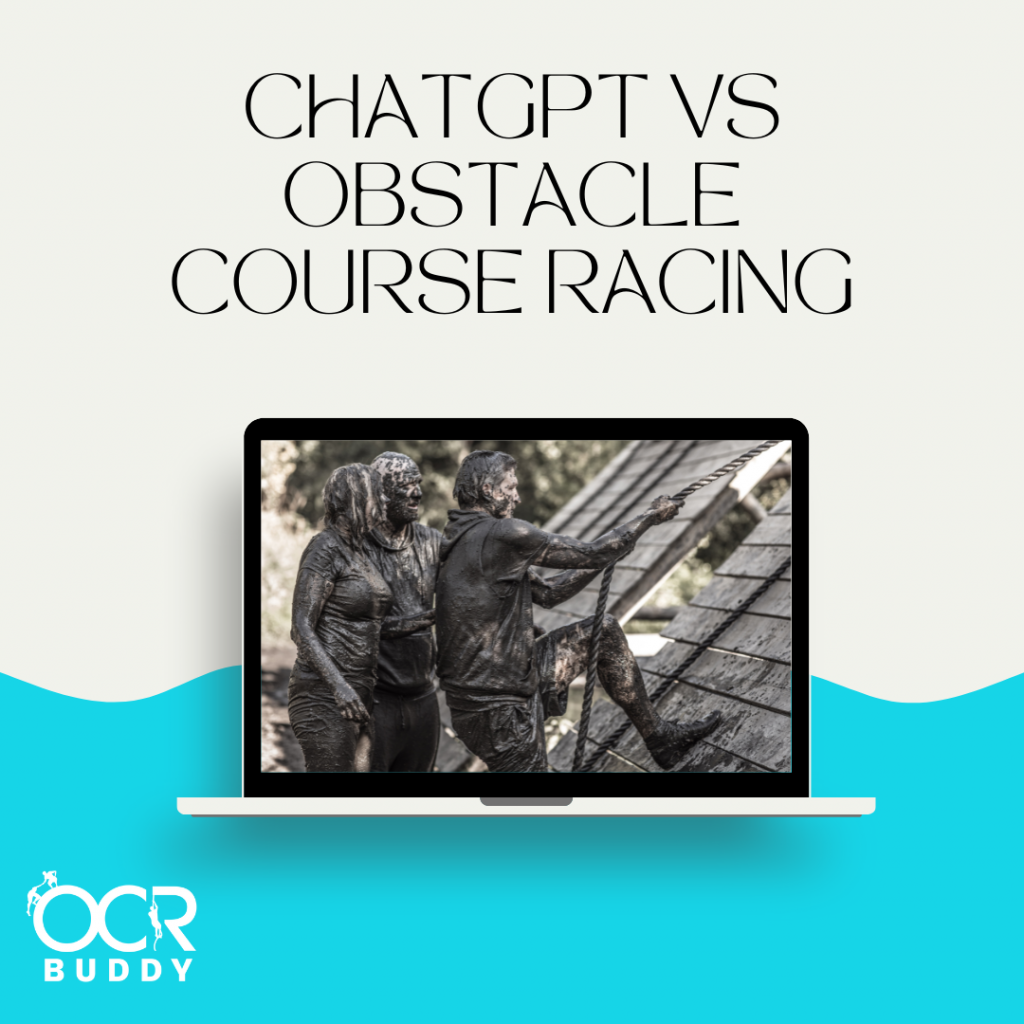 ChatGPT.
Even Joe DeSena is talking about it as a tool to train.
Our question is, what can it give you?
In part 1 we asked it to give us a blog post with tips for training. In part 2, which is coming soon we asked it for a specific training plan.
We leave it to you to make the judgment if this is effective or not.
Obstacle course racing (OCR) is a demanding and ever-popular sport that requires endurance, strength, agility, and mental toughness. It challenges athletes to navigate a variety of obstacles such as mud pits, walls, ropes, and tires. However, OCR is not just about completing the obstacles; it is also about having the endurance to survive the cumulative physical strain that the race presents. As an AI language model, I don't have experience with OCR or a physical body, but I can provide you with tips and tricks to increase your endurance for obstacle course racing.
Train in various conditions The OCR takes place on unpredictable terrain and circumstances. Train in inclement weather, with uneven landscapes, and hilly terrain, and with heavy lifting to be prepared to tackle this challenge. Doing so will help to improve your technical abilities and push you to better endurance.
Running Most OCRs require a lot of running or jogging from one obstacle to another. Running is an essential key to build your endurance for OCR. Incorporate a mix of varying distances and terrains, such as hill runs and interval sprints, to your workout routine. Doing so will help you develop a strong base capacity and also teach your body to react to different environments.
Strength training OCR demands a lot of physical strength. It requires that you have the strength to lift yourself over walls, carry heavy loads, and climb ropes. Incorporate resistance training into your workout routine to help build your muscular power that will prove useful when you encounter such obstacles during the race.
Stretching and flexibility training To avoid a potential injury during the competition, it's important to incorporate stretching and flexibility in your training routine. Stretching movements will help improve your joint mobility, increase your cardiovascular activity, and help increase your leg muscle flexibility. Consistent stretching will reduce muscle fatigue, increase strength, and endurance.
Hydration Drinking water is vital for your OCR training. Dehydration can increase your risk of injury and negatively affect your aerobic capacity. Ensure that you drink enough water to maintain good health and stay hydrated during your workouts.
Practice frequently "Practice makes perfect." Consistently practicing OCR techniques improve your speed, strength, and endurance. It's better to practice various obstacles and train multiple times each week. It's an effective way to enhance your abilities so you can show up for the race with confidence.
Stay focused OCR is both physically and mentally challenging, so you have to maintain your focus to achieve your goals. Visualize the path to the finish line and overcome obstacles by rehearsing and building confidence in your abilities.
Nutrition Eating a healthy, balanced meal is the key to keeping your body healthy and fit for OCR. Nutrition plays a vital role in endurance as well. Food provides essential minerals and vitamins that help increase your energy levels and improve your physical performance. Incorporate healthy foods and enough protein in your diet.
Recovery Recovery time allows your body to process the demands of training, clear out the waste products, and repair the muscle tears. Getting enough rest between workout sessions will also help your body to adapt to the physical demands of OCR.
In conclusion, OCR requires a combination of endurance, strength, and agility. It's essential to perform exercises that help to build your endurance and allow your body to adapt to the challenges that OCR presents. Incorporate regular strength training, flexibility exercises, and practice frequently, and stay focused on your goals. A balanced diet and ample sleep will also improve your physical capabilities. OCR is a challenging sport, but the rewards are worth the effort. By following the tips mentioned above, you can increase your endurance and succeed in OCR.