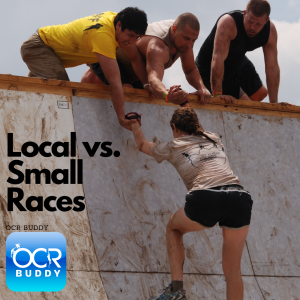 Last week, OCR Buddy posed the following question to the OCR Community:
"What is the difference between a local race and a small race?" And followed it up by also asking, "Also, does/can a race series qualify as a local race? Can a one-time race not be "local"?"
The answers were interesting to see and we want to present them to you as we do not clearly determine, although we tried, to define a small race and a local race.
Local Race Comments:
• Local race is less than 3 events, limited to local crew.
• I would say a local race is typically a one-off event hosted by a local business or org. Probably won't find it anywhere else.
• Regardless I know the labels are very subjective…this is just how I think of it…I'd have a hard time calling a race I go to halfway across the country "local" even though the local crowd is their primary market.
• Local to me means that it overwhelmingly draws from a specific region.
• Local Race they are from the community they can build, run, or some part in the race themselves.
• Technical definitions aside, I tend to use the term "local" to refer to non-commercial races, typically fundraisers or benefit races. Some examples I attend are ASCO Spartacus Dash (Belton, TX), Gladiator Dash (Bryan, TX), THOR (Wichita Falls, TX), and Thunderdash (Comfort, TX). One big thing I find consistently is that the staff and volunteers always seem more excited and enthusiastic because they're not working or trying to get a free race – they're supporting their cause.
• Like what some have already said to me a local race is a single event usually a fundraiser for someone. Like the Battle Run which supports A Soldier's Child Foundation or the Jailbreak which supports Gwinnett County Sheriffs Dept in Georgia.
• A local race is a "one-off" race and not a series or corporation. In my mind, Spartan, Savage, Tough Mudder, etc. will never be a local race. Usually, a benefit race but not necessarily. Also, usually not nationally known. Just my opinion.
• I consider a local race to be a race put on by one group in one location once (or a few) times a year. Local doesn't necessarily mean small in size but is considered small in the sense that they are not nationally or internationally known with multiple races at multiple venues across the country or world. At least that's what I think of when I hear local or small races.
Small Race Comments:
• Small race is a race series or the number of events (5-8) and gear/athletes you can find out of the area.
• A small race is a series that hasn't quite reached the level of the big dogs like Spartan, Tough Mudder, or Savage, but they aspire to in the future.
• Small generally means an event has just a few events per year, often just one and draws well under 1000 people.
• Small races are groups like Phoenix Race OCR that host several events but are not huge corporate companies where you lose the personal touch. Spartan is an example of a large event that has lost its real connection with its customers/runners.
Local Race vs. Small Race Comments:
• A small race is something like Terrain race A local race is Frontline OCR which is totally badass by the way.
• I think the debate will center on races like Indian Mud Run. Is it a small (only one race), local race? I don't know their numbers, but the draw and prestige place it outside of the status of "local", into the category of a once per year "destination race" – something that's super common in road (Boston Marathon) and trail (Leadville 100), but not so much in OCR and Triathlon where touring companies like Spartan and Ironman dominate.
• To me local means within a couple of hours drive, an easy day trip. Drive down, race, drive home. Small means not one of the big names in the business. It can be a series or a standalone event.
• Local races are put on by somebody(s) who is local, and it's supported within the local community. I'd say a small race series or brand isn't necessarily a local, but if they started as a local race, that location/ date every year would be a local race. Ex: Phoenix Race acquiring Black Swamp. Black Swamp is a local. This race is a local that is now in conjunction with Phoenix.
• Come out to Five O.C.R. in Rice, Texas on April 30th. I believe that it will qualify as a small and a local race. Whichever, it will be a lot of fun. It's tagged as #Racelocal and #LSSRaceLocal in OCR Buddy.
• (Answer by Julie White Wolff of Phoenix Race OCR) Unpopular opinion here probably. I think a local race is more about the feel & atmosphere of the event- the company that hosts it- the racers that run it. We started as a one-event local race and grew by identifying cities that were greatly affected by Covid and needed an economic boost and by buying events that were closing or at risk. Our events are first and foremost about the racer experience, then the economic impact we can make in communities along with the fundraisers we support. We are a very small company. Only two full-time people. We are very present to racers both before, during, and after race day. So yes, we have a small series but each of those events is a local race.
• Just my two cents on this topic. A local race is a "brand" that has 1-2 races a year at the same venue and targets the hyper-local demographic. A small race OCR-wise in my opinion is a "brand" that holds 5-6 races in multiple venues/cities. I personally believe a one-off race is absolutely a local race.
• to me local means not sponsored by any larger Corp or company. Challenge Race 2023 is local. Tame the Terrain is local. they're also small.
• i'll be running highlander assault DA. that to me seems local to that area as well, but maybe not small. idk will be my first time. I'm also registered for 4 Spartans and two Tough Mudders. definitely NOT local. definitely not small. I ran a muddy dash on Saturday. was not small. was not local imo.
• Case in point…Black Swamp Runner. When they did their two-night races in addition to their day race, it was a small, local series. All in the same venue but their races completed a bigger medal if you did all 3. Very popular with people coming from distances to participate, but still small in that they didn't do events in other states/countries. Still an amazing race series, but also fits into the small, local race category.