When I decided to go ahead with the OCR Community Choice Awards, I made the final decision in a very big year for OCR Buddy.
The year started in a pandemic that seemed to be turning a corner. The first few months of the year were littered with cancellations and postponements; it seemed that the future looked bright for obstacle course racing. The chatter on social media was increasing. More companies started t0 list their events and basically guaranteed that they would happen. Race photos were posted, results were online, and championships were announced.
OCR Buddy, which stayed true to our calendar and database, kept updating and upgrading the app. People were downloading the app and spending more and more time on it looking for events. During 2021 alone, we added the following upgrades: images for brands/federations within the listings, a specific OCR World Championship Qualifier filter, Hybrid event types, multi-day event listings, personal/private events, and added a swap shop. The biggest two changes were adding the desktop version, and OCR Buddy is now free.
OCR Buddy started an ambassador team featuring 55 athletes worldwide, from elites to unknowns. This team had not only energized the OCR Buddy brand, but it also energized me, and the individuals themselves have produced contagious energy.
This energy has allowed me to step forward more and more to bring OCR Buddy to the forefront of the OCR Community. I wrote a blog about the possibility of an #ocrcollective (which will happen in 2022). I am talking to someone about revitalizing the OCR Buddy Race Director Facebook Page. Lastly, the OCR Community Choice Awards. The awards brought together over 30 OCR organizations/teams in the United States for the largest OCR collaboration…ever.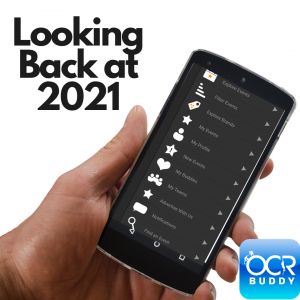 From the nomination process throughout the voting, the reaction from the OCR Community was staggering. Watching the social media posts pass by was truly humbling. Knowing that so many people wanted to nominate their friends, trainers, teams, favorite race brands, and more proved that I made the right choice by putting together the awards.
Afterward, seeing the gratitude from the winners and runner-up awardees reminded me that people appreciate the recognition. I received multiple texts and messages thanking me for the awards. In return, I thanked them but also reminded them that the OCR Community is truly to thank. They voted.
People who won or were a runner-up posted their graphic and spoke about the pride in winning and what it means to them. That is what it is about. It is about reminding ourselves and each other about the love and pride for obstacle racing, the OCR Community, and ourselves.
To me, that is what this year was about. We got back that flame. We found the love for the sport and the community again. Yes, Omicron is out there and screwing things up again, but we learned. We know there is a future ahead of us, and we all know that we will be okay.
If you are a Race Director and want to be added to the Facebook group, let me know.
If you are part of an OCR group/team/organization here in the United States (we will start small) and are interested in being part of an #ocrcollective, let me know. Check out my blog post to learn more.OCR Cooperative
If you took part in the OCR Community Choice Awards in any way, from nominating to voting to being a collaborator, thank you. This couldn't have happened without you, and it is already having me prepare for the 2022 OCR Community Choice Awards next December. Those will be bigger and better.
Thanks to Bonnie Wilson of @bsosocialontherun for all her continued hard work for OCR Buddy, and I recommend her highly to anyone who has social media needs.
Thanks to Charles MacDonald @sabretooth_ocr for the graphics.
Thanks to you, the OCR Community. Thanks for all that you do for me. I appreciate it.
Now, 2022 is coming. Download OCR Buddy and plan your schedule.