Spartan CEO Joe De Sena asked OCR Buddy to ask the community to gather their questions about Spartan Race and the status of the sport of Obstacle Course Racing.
And he is answering.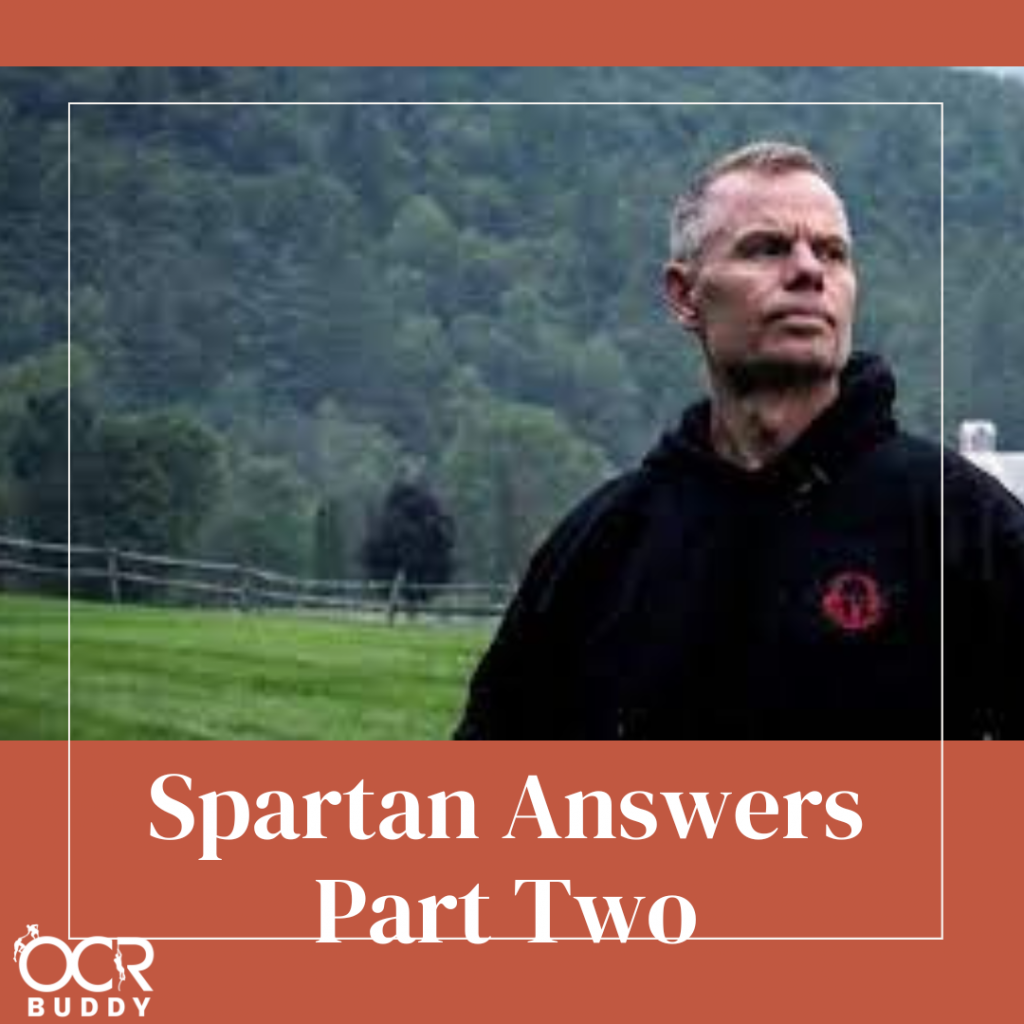 These are the second 20 answers. They have only been edited for some grammar and punctuation or there has been context added by OCR Buddy founder Russ Blatt.
In this edition, some answers will be from Giles Carter CEO of Tough Mudder those will be noted.
If you missed the first edition: https://ocrbuddy.com/part-one-spartan-ceo-joe-de-sena-answers/
Injured athletes who were injured on the course, were transported from the course (namely Palmerton Super in July 2023) and DNF have reached out directly to Spartan only to be told they would not be compensated for their shirt/medal. They were told that they could have a code for a trail race (to clarify not a Super, Sprint or Beast). I understand they signed a waiver and it's a finisher medal, but what can you do to be a better support to these athletes to retain them and not scare them off as these are the people you want to return and seek redemption? Those who were pulled off the course and DNF due to weather did receive their medals and shirts either. (Russ edit – It seems that there is an issue with customer support here and the ability to reach out to athletes with issues. Additionally, the perception of saying "no" is resonating withing the obstacle community)
The long held Spartan ethos is "earned, not given". If racers don't successfully cross the finish line, they don't get a medal/shirt. If racers reach out to us having been pulled for medical reasons we provide a free race (of the same distance they got pulled from), so they can get back out there and earn their shirt. Weather related DNF's are usually game day decisions and these vary a bit, but we try to stick to our principles here – you've got to cross the finish line.
When will you be introducing new obstacle innovation to the course? Not speaking of making current obstacles harder, but creating a new grip obstacle.
We are planning on a few things in 2024 but generally, it's not going to be something Spartan do in a big way each year. We want racers to be able to become ridiculously proficient with our obstacles. We'll continue to improve the nature of penalties to ensure that successful obstacle completion is appropriately rewarded.
Spartan gets the complaint that it's tone deaf to its racers all the time. Would you consider creating a Feedback Committee of Elite, Age Group and Open racers that can evaluate your top changes and innovations for races?
That certainly sounds logical. I am not sure how to handle the long-distance runners wanting longer events, the short-distance wanting shorter and the big lifters wanting heavier. We actually do speak to a variety of racers from around the globe regularly. We also get feedback from our production teams (build/ cost implications) our marketing teams (what communicates the brand values and helps rip people off couches) our International Partners (what works elsewhere in the world), National Federations and many others. We collect regular feedback via post-event surveys and are happy with the high NPS scores we receive – but we can always be better and will continue to explore ways to engage with the community.
What's the hardest thing you've ever done and how did you get through it?
Lots of very long distance insane races..but fighting through Covid with Spartan has been the toughest.
What is the reasoning that the overall leaderboard (and motivation to be top and get prizes) was taken away? Why take away ways that people can be recognized?
It's never our intention to take recognition away from our athletes. In fact, our entire brand philosophy is centered around creating races that are so tough that simply crossing the finish line is an aspirational achievement worth recognizing.
We also believe that sport, competition, and leaderboards are powerful tools for helping athletes push past their limits. We've had some cleanup work to do in order to create a simpler, more powerful system for recognizing achievements – but stay tuned for some exciting changes coming in 2024.
If you had to choose between hitting your "rip them off the coach" goal or getting obstacle racing in the Olympics (or making elite racing the focus), which would you choose?
It is possible to achieve all 3. If forced to choose, number 1 is 'rip off couch', number 2 is getting us in the Olympics. I believe number 3 comes with strong delivery in 1 and 2.
In my opinion, what made Spartan great was the unknown. How far was it really going to be? What obstacles were going to be there? It seems that now there is too much consistency, and we all know what to expect. How can these be mixed?
Stay tuned…playing with some interesting craziness for 24'
What's been your favorite race event he's participated in and why?
Killington for sure. Just a bear of an event. Iconic, scenic, etc.
What's been your least favorite event and why?
Least favorite Maybe Foxwood in Connecticut. Just less of an "outdoor" environment.
Can we get more 50 K Spartan trails on the East Coast? And can we get an Ultra at West Virginia next year? (Russ edit – While answering these specific questions, Joe maybe you can explain what goes into selecting what types of races happen at which venues and why)
Right now we are simply working on getting everything organized and humming again. Incredible challenge the last 36 months. To pick a location and discipline we need all the stars to align. Right location (physical space requirements, available dates that work with a broader calendar), team availability (staffing, trucking routes), addressable market (need to be confident in demand) etc.
Would you consider giving current season pass holders more notice on the price and availability of passes to help them plan to buy (more than just 1 week)? Also, provide more than two tiers (Tier 1: US Pass as is (all races except for Ultras or Trails) / Tier 2: US Pass that includes Ultras or Trails / Tier 3: US Pass that includes both Ultras and Trails (Similar to the Current Ultra Pass but just for US Races)). North America pass does not include Mexico.
We don't have the tech available yet to slice and dice passes this finely. There are also limitations to how passes work across Geographies.
The clear goal is to "rip people off the couch" but what percentage of your focus is on the elite side of the sport? If it's a reasonably high percentage, can you name 5 current elites who participate in your races regularly?
We invested in the elite side of the sport for many years and are proud of that. As the "sport" side of OCR strengthens and National Federations take over management of national teams we've shifted our focus to Age Group and Open racing – getting everything efficient and fully operational around the world. The elite side of the sport remains important but is not a high percentage of our focus currently.
What will it take for you to reanalyze your "fire, ready, aim" approach since the lack of a focused plan continues to permeate Spartan Race?
I think we are fairly focused on what we want to do – Hard challenging events, in every part of the world that will take us. We are just still a bit wounded and not back to our previous strength.
What happened with the Stadions? Between the Baylor switch up, losing Citizen's Bank Park, and not having the North Jersey race, the Stadion events seem dead. What can be done to bring them back?
Many of the venues we were dealing with when we plan 12-15 months in advance were also in a state of flux coming out of Covid. It has not been business as usual in dealing with venues, particularly the big stadiums.
When will Spartan Race come to Northern Europe?
We're actively looking for a strong partner – if you know one, please get in touch.

If the CEO of Spartan Race believes that alcohol is bad for you (as seen on social media), why continue to give away free alcohol on race day?
I am continually shocked at how many people consider it a "must have". We have to meet people where they are.
My question would be about their decision to change TM to 15K next year, a distance that I may not do if all I get is 20 obstacles. Are there plans to expand the number of obstacles for a longer event?
(GC answer)
There are a number of elements to unpack answering this one:
-Tough Mudder was at its best when viewed as a daunting challenge, best tackled together. Simply completing Tough Mudder was an accomplishment in itself, an accomplishment that stood alone and didn't need defining by specific distances or obstacle counts. When we added multiple formats it became necessary to differentiate, with distance/ obstacle counts being the easiest way to communicate this differentiation. Unfortunately, this commoditised the experience and meant marketing/ sales tactics started to lead the product definition, rather than the other way around.
-My preference would be to have Tough Mudder stand alone as a value proposition, without needing to chase arbitrary obstacle counts in what becomes a marketing arms race. We'll hopefully get there, but completely removing obstacle counts was felt a step too far at this stage, not least because of the responses of people such as yourself.
-Not all obstacles are created equal….Not all "obstacles" should count… (I'm reminded of the "golden age" of OCR, when Tough Mudder courses had 18 obstacle, a combination that provided an epic experience.
-Ultimately, this is about returning to a Product led Tough Mudder experience. Our aim is to improve that experience, not reduce it.
(Also, TM will simply be Tough Mudder – not tied to a specific distance, although to manage expectations you should expect something that's 10+ miles)
My question is regarding the dozens that I boosted over walls, ones I jogged past as they walked aside, they have commented that a 15k event is too long. If there are people that will not show up, why make that fundamental change?
What do you say to those people that you are willingly pushing away from the product for seemingly no reason when Spartan already exists in this space? Does you feel any remorse for them?
(GC answer) (assuming these are effectively the same question)
It takes a lot of conviction in a vision to make a change that may potentially lose us customers. However, we deeply believe two things. 1) Everyone saying "15k" is too long would be able to complete it if they really wanted to (especially if undertaking the challenge with the support of others). 2) Wearing a Tough Mudder headband will mean way more for everyone who puts in the effort to go the distance.
This is a thoroughly considered change, which I previously shared thoughts on this.
Why did they change from giving the Ultra bib at transition to the packet pick up? This way, people have the ultra-bib without earning it because ultra is the two lap event. Get back to earning the bib. Thoughts?
We're trying to standardize and simplify in this area. Bibs are meant to identify racers actively participating in a given race; medals (or buckles) are earned when they've completed the race.