Spartan CEO Joe De Sena asked OCR Buddy to ask the community to gather their questions about Spartan Race and the status of the sport of Obstacle Course Racing.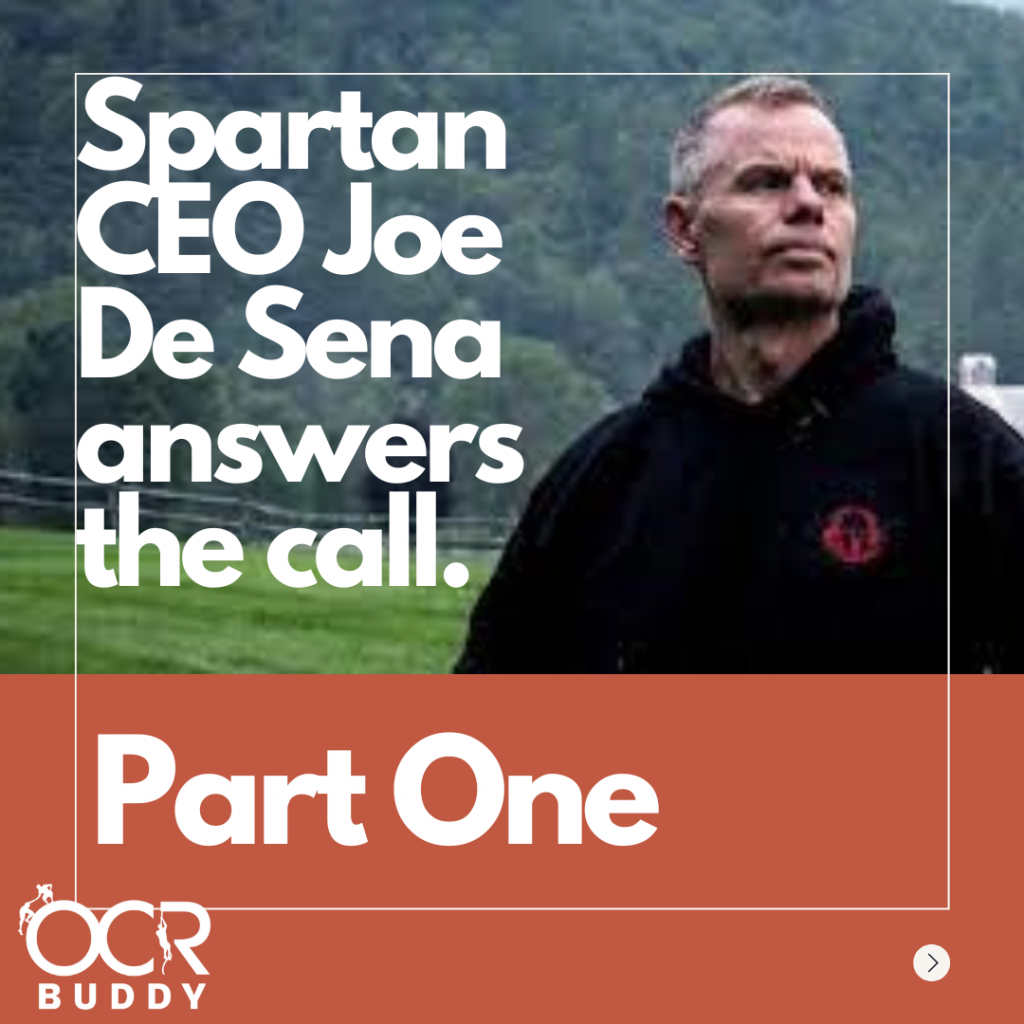 And he is answering.
These are the first 20 answers. They have only been edited for some grammar and punctuation or there has been context added by OCR Buddy founder Russ Blatt. We are receiving these in groups of 10 and will release them in groups of 20.
How do we know that this will be Joe DeSena answering our questions and not an underling or an Intern?
Joe's first dog with his wife was named "Lucy" – he is married with 4 children and a current dog named "Sir Earnest Shackleton"
What is the plan to bring the trifecta chasers and the Original Generation Spartans BACK to the brand? (Russ edit – So many people have not returned to Spartan who were racing 2018 and before. The question is asked to see if there is a plan to reach out to the original Spartan racers and bring them back to your events)
We would love to have the world remain Spartans for life. The reality is that people (me included) are wired to not push our limits – we are wired to lean toward couch vs. rope climb. Covid knocked a ton of people back to the couch.
We are growing the calendar for 2024 and adding additional Trifecta weekends, but we also need the current generation of Spartans to help us bring the original generation back.
How does Spartan plan to hold onto the racers once they're "ripped off the couch"?
Momentum works. As long as we are not shut down globally again it's a matter of getting people into the ecosystem and having them "feel" how awesome it is to live Spartan. After that – it's a combination of sport, community, gamification and, crucially, epic races at epic venues. Worst case we lock them all in the basement and only release them to race.
Why is 100% completion not mandatory with Elite/Age Group, considering penalty & retry of obstacle or forfeit the band? (Russ edit – This is becoming a more popular sentiment with the obstacle racing community)
Spartan is all about doing hard shit – which can sometimes mean things become impossibly hard. Bad weather, underestimated obstacle difficulty, and other unforeseen factors can conspire to create an imbalance in obstacle completion, even for top athletes.
Rather than racking up disqualifications or stranding racers on course indefinitely – which we believe to be bad for the sport – our philosophy is to reward athletes that can ace the obstacles.
A major focus of ours going forward will be ensuring that penalties are far more taxing and time consuming than obstacle completion, disproportionately favoring athletes that complete 100% of the obstacles.
Why are there not more officials to watch during the Elite/Age Group wave to prevent unsportsmanlike conduct like skipping penalties/obstacles? (Witnessed this myself firsthand)
Coming out of Covid volunteer numbers are light but every month are growing. We're working with World Obstacle and National Federations around the world to support the growth of technical officials.
How will you be more customer service friendly? Customer service is a huge complaint amongst racers.
Our customer service team is awesome – handling >300k customer service inquiries per year, across multiple channels in the US alone. CSAT scores are currently 4.7/5 but we continue to look for ways to improve this service and are currently betting on technology to be a part of that journey.
I believe the route of this complaint is not actually the friendliness of the team, but rather the fact that the team are enforcing business decisions that the customers don't like. We're very conscious of this challenge and are constantly reviewing policies. I'm always happy to hear from and engage with customers directly.
Does Spartan have any sort of long-term plan? If so, can you share some of it with us.
A. Change 100 million lives.
B. Create an Olympic Sport
C. Become the House of Hard – building a portfolio of brands that give people the tools, the community and the epic experiences to Be Unbreakable
Why did spartan do away with the 30 burpee penalties for Age Group and Elite racers?
The team could not consistently track adherence to the penalty. There were burpee thieves.
Should I feel motivated or disrespected by your blatant lie about that Mona Lisa image? If motivated, how in the world is that supposed to work?
So a couple of thoughts here. 1. You can always email me. 2. You can trust that we have a Spartan Bot in beta playing with images it ingests and spits out. I am not quite sure why the topic of Mona Lisa and A.I. would or could affect your motivation.
You seem to be very out of touch with your followers. Why do you continue to post scientifically unproven nonsense without sources?
Can you give me examples? I would love to learn more.
If you are truly about changing the world and getting people off the couch, would you think about cross promoting with other small local obstacle races in the various regions you travel to around the country?
Would love to. Most of our efforts through 2023 have been "rebuilding" post Covid, getting our brands, markets and countries back on their feet. We have another 9-12 months of hard work to do – to get us back to some sort of normality.
Do you not understand that the local or smaller races are somewhat of a farm league to Spartan (as compared to baseball)? When will Spartan begin to work to not schedule Spartan events on top smaller local brands? Do you realize that the smaller local brand is beneficial to your brand as well? 40% of our new racers go on to race a Spartan event. You have to remember this is a sport and not one company.
We love the smaller events. In the early days, the first decade of our existence, we were standoffish and were not as close as we should have been to others within the industry – we're working to change that. We agree that local events are great for the industry and all of us. We're open to working with others.
Thats said, it's not always possible to deconflict the schedule. We do our best to balance our own event portfolio (450+ events annually), other operators events schedules, venue availability, trucking routes, staffing schedules etc. Sometimes it's simply impossible to avoid clashes, despite best efforts – like we're seeing with WTM and Trifecta World Champs this year.
If you're a local operator and you'd like to work more closely with us please reach out.
There's been a lot of noise regarding making races tougher and more competition-oriented, which is great for serious athletes. However, this might make things more intimidating for newcomers. With a brand that's already considered one of the toughest, how do you plan to get new people off the sofa and living their best Spartan life? (Russ edit – while this is like the question above. Please answer it with the focus of the intimidated racers and how will you get them off of the couch?)
Is it really that hard? I can't even imagine living 2500 years ago and how hard that was. Anyone showing up probably has a bath tub and uber eats…we need to stay true to our philosophy and ethos..its hard as fuxx, but you can do it…and it will change your life forever.
Why is there not a step-up on taller obstacles for females/shorter athletes? For example, Stairway to Sparta in which you need to be a taller individual to advance to the first hand hold, but there is a foot hold on lower obstacles such as Olympus? (Response from Chris Maltbie)
We try to walk a fine line when designing our obstacles, to ensure that completion is possible for all athletes, whilst maintaining an incredibly high level of challenge for all Spartans.
Our first step is always looking at the specific challenge that an obstacle is intended to deliver. For example, on Olympus (a bouldering-style challenge) or the Multi-rig (an overhead traverse), we're testing grip strength and dexterity. Ensuring that all athletes can reach the initial handhold is essential for them to have a chance to demonstrate those abilities.
On the other hand, Stairway to Sparta is a vertical scramble & climb. Adding additional footholds to the obstacle presents a direct scaling of the obstacle's difficulty that we don't feel that we can fairly or effectively monitor during the race (i.e. measuring athlete's heights or offering the right number of lanes for each height option to mitigate lines at obstacles).
How do you plan to entice racers in both Open and Elite/Age groups with obstacles and race formatting to keep it both fun & challenging? After going from what some had complained previous versions of the course being too easy, to taking a drastic swing and making it so much more aggressive and difficult, the events have become discouraging for even Elite/Age Group athletes? How do you plan to make courses fun but manageable for new racers who want to participate but after one race are completely defeated after one race because of extensive difficulty?
I believe suffering is fun. I am not normal.
Why can Savage Race put out multiple new obstacles each year, but you haven't even put out one new obstacle in multiple years? (Russ edit – This is like a previous question. However, let me ask this question another way. Other brands are using innovation to keep us coming back to see what is new and how these new challenges will test us. Spartan does not appear to be doing that.
(Some Chris M in here)
At our scale, with hundreds of events around the world every year, we have to design our obstacles with a balance of two competing criteria: consistency and variation.
Consistency is necessary for both the boring reasons – like controlling operating expenses and our teams gaining proficiencies with the designs – and the sport. It's important that some of the obstacle variables are controlled so that racers can train and gain proficiency on them with time. With 70% new racers every year, we also need to acknowledge that many racers haven't experienced any of our current classics.
On the other hand, variation and innovation are also incredibly important; we just need to approach them systematically and strategically. Spartan is dedicated to getting racers outside of their comfort zone, which means mixing things up and pushing the envelope; that's why we have a number of new elements in the funnel for 2024.
Could stadium races be expanded to include Super and/or Beast distances? Could there be a two-stadium event in the future as part of this? Is a Stadium Trifecta even possible?
Stadiums that are in high demand are typically locations in downtown cities etc. It would be challenging to achieve the necessary distances in these metropolitan areas.
Will Spartan ever come to India?
We would love to and have been exploring this for a number of years. We need a strong partner in large markets like that (and a local supply chain). We are in active conversations currently, but If you know interested parties please ask them to reach out.
Do you think that Spartan should get back to its roots a little bit and, at least on the open side, be done with all this focusing on the small percentage of elite racers?
Can we do both?
What's been your favorite race event he's participated in and why?
Killington for sure. Just a bear of an event. Iconic, scenic, etc.