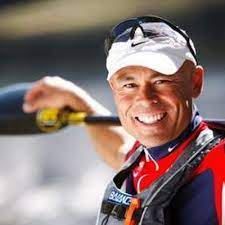 Ian Adamson is the President of World Obstacle. I have known Ian personally for about four years, as I am the Assistant Director of USAOCR and was brought into that position by Ian.
Whenever I talk to Ian, he is on a plane, in an airport, in another country, and always working for the future of obstacle racing. He has a long accomplished history in sports, dating back to his adventure racing days. He has multiple World Records.
I sent Ian 10 questions recently. Some of these questions are things that I wanted to know about Ian and allow people to see the man behind World Obstacle. Some do not always agree with his viewpoints or decisions; no one can deny that he works tirelessly for the sport, the future of obstacle racing, and to bring the sport to the world's grandest stage.
Before the questions, here are some things about Ian and what he has done, and who he is:
Ian accumulated ten world championship wins in adventure racing from 1996 to 2006 (plus three wins and six podium finishes at the Eco-Challenge), 25 world championship podium finishes, and Gold, Silver, and Bronze medals at the ESPN X-Games. He is a three-time Guinness world record holder for endurance kayaking (262 miles in 24 hours) and is a current Ninja world record holder in the 45-59, 50-54, and 55-59 age groups. He also has Guinness World Records for the Highest Altitude Obstacle Course Race and Highest Altitude Fitness Class (18,746 ft). Ian won age-group world championship titles in the Pentathlon events of biathlete, triathlete, and Ninja Racing from 2016 to 2019.
Ian's international event production career started in 1999, contracting to International Management Group as a course and technical director for complex multi-sport races. Since then, he has produced and directed dozens of major international sporting events and championships, including world cups, world championships, and Olympic qualifiers in Olympic sports.
Ian is a highly regarded television professional, working and consulting on shows that included The Raft, Nature Island Challenge, American Tarzan, Million $ Mile, Primal Quest, Mild Seven Outdoor Quest, World Adventure Rafting Championships, Ninja World Championships, OCR Asia-Pacific Championships, OCR European Championships, 100m, 400m, and 5K OCR medal events at the South East Asia Games, Ironman, Pentathlon World Cup, and World Championship events, 8-hour Triathlon and 24-hour Triathlon World Championships.
Ian belongs to committees developing international safety standards for ASTM International for obstacle races, aerial adventure courses, and fitness facilities. He works as a legal forensic expert for Robson Forensic, providing opinions on zip lines, obstacle courses, obstacle races, adventure sports, competitions, and recreation. https://www.robsonforensic.com/experts/adventure-obstacle-sports-expert
Now, here are 10 Questions with Ian Adamson…
I know that you are an accomplished Adventure Racer. How did you get into that sport and then transfer that to OCR?
My pathway into adventure racing was through international competitions in cycling, orienteering, triathlon, canoeing, and kayaking. I parlayed this into adventure racing in the 1980s. I participated for about ten years while I was focused on Canoe sports, including representing Australia and the United States at world championships.
When the Eco-Challenge and X-Games adventure races debuted in the United States in 1995, the rapid growth in the number of events, international broadcasts, and prize money allowed me to race full time. For a few of us, this afforded six-figure annual incomes for the next ten years.
Adventure stage racing and sprints were popular from 1997 to 2006, many with manmade "adventure skills" like walls, crawls, nets, ropes, and other obstacles common in OCR today. I knew about OCR from Tough Guy and got involved through Joe Desena, who I knew from adventure racing in the 1990s. He tapped me to design and manage Expedition BVI in 2001, his first foray into event production. We stayed in touch, and I periodically helped out in the early day of the Spartan Race, doing my first race in 2015.
What's your biggest accomplishment and also memory in Adventure Racing?
Winning all the major adventure international championships races more than once (the Raid Gauloises, Eco-Challenge, Primal Quest, and AR World Championships), and winning all the "majors" in the same year multiple times. Winning Gold, Silver, and Bronze medals at the X-Games was memorable because international multi-sport Games have a special feeling and camaraderie. The X-Games were exceptional competitions because only the top 12 teams in the world were invited to compete.
How did the idea to form World Obstacle come about?
In 2014 Colleen MacManus, who worked with Joe and had been a director on Expedition BVI, suggested I assist with their idea to take Spartan Race to the Olympics. I knew from producing and competing in international events that the pathway to the Olympics requires an international federation. This resulted in the International Obstacle Racing Federation (IORF) formation in 2014. My advice to Joe was to keep Spartan for profit and make it like the Ironman of OCR, which he did.
An earlier genesis created an international federation for adventure racing in 1997 after our experience at the X-Games, but I put it on ice after retiring from the sport in 2007. The formation of IORF rekindled the idea because adventure racing can be seen as a long-form OCR with a few other sports and very large obstacles like rivers and mountain
For those that don't understand, explain the goals of World Obstacle and how it helps everyone?
International sports federations exist to represent the athletes and sports functions to support them. These are not-for-profit, democratic associations of national governing bodies that provide governance of the athletes by the athletes for the athletes. Everyone in the federations (nation, continental and international) are volunteers who populate the committees and can be elected to boards and the executive branches. Unlike commercial organizations, anyone can join, and everyone is invited.
Sport functions are the things that ensure a healthy, vibrant, safe, fair, and affordable sport. These include guidelines and policies for health, wellness, safety, fairness (e.g., anti-doping and competitions rule guidelines), ethics, conduct, diversity, transgender, coach & youth development, officials training, masters, safeguarding against abuse, and more.
We also provide a platform for elite athlete representation through the Athlete Advisory Council (AAC) Structure. This provides advice and recommendations for the sport
independent of the federation governance structure (the NGBs). Each country can have up to two elite athlete delegates on the Athlete Advisory Board, and each continental region has up to two delegates that make up the AAC.
What is the average day of the World Obstacle President like?
If I'm in the United States, I typically work early mornings with Europe, during the day with the Americas, and evenings with Asia and the Pacific, 6 am to 10 pm daily. I spend 1/3 of my time doing legal forensic work, so about 30 hours a week.
I work about 90 hours a week because we have national member federations (national governing bodies) in 110 countries across all time zones, and holidays and weekends vary from country to country. This means every day is a workday, literally 24/7, 365 days a year!
I ask this because it seems every time we message, you are on a plane. How many miles have you traveled over the past two years as World Obstacle President?
International travel has been curtailed during COVID, but I typically fly 10,000 miles a month and have accumulated almost 3 million miles to date.
What is most proud of with World Obstacle?
Achieving Observer Status from the Global Association of International Sports Associations (GAISF).
https://www.insidethegames.biz/articles/1114102/gaisf-world-obstacle
World Obstacle is one of only two sports in the past five years out of over 320 trying for approval. There are only 11 GAISF Observers, including Rugby League, founded in 1895.
In 2021, obstacle racing received "Observer Status" from GAISF. What is that in layman's terms, and what's next?
Being granted Observer status means we have satisfied the essential requirements to be approved as a full member of GAISF, which effectively puts us on the pathway to approval as an Olympic sport. The are many requirements, but it ratifies that World Obstacle provides representation and support for the communities in the various obstacle sports worldwide with effective governance, structure, and functions.
https://gaisf.sport/about/how-to-become-a-member/
Our next objective is to assist 75 of our national member federations to achieve recognition from their National Olympic Committees (NOCs), a requirement for an international federation to be considered for membership of the International Olympic Committee. We are about 1/3 of the way there and aim to complete this next year.
NOC approval generally results in governmental support for a national federation, including financial benefits, and provides the pathway for athletes to represent their country on their national team.
Are you still actively racing?
I stopped racing when I retired in 2007 but continue to participate in age group categories in Ninja, OCR, and Pentathlon events, including swimming, running, and laser shooting. Most recently, I was working and participating in the Altitude OCR World Championships in Tanzania, which included submitting Mt. Kilimanjaro at 19,341 ft. and the World's Highest OCR at 18,746 ft.
https://www.worldobstacle.org/altitude-ocr-world-championships/
Is something about you that most people don't know?
I'm a trained concert flutist, aircraft pilot, and accredited to captain sailing charter yachts of any size anywhere in the world.