Your First Mud Run is an obstacle race in which the whole family, parents and children, run the course together.  This family-friendly event, featuring medals, shirts, free bag check, free parking, no spectator fee and more is the brainchild of Brad Vaccaro.
Brad took some time to sit with us and be the next guest on "10 Questions with…".  We learn a lot about his events, his plans and his future plans.
Editors Note: In this article, Brad mentions a document that tells his story. We have added that document to the end of the article.
How did you get introduced to OCR, and what was your first experience? 
I actually started my company more than a year before I ever even competed in my first OCR event. The story is explained in the document attached. But in essence, I knew that there was nothing in the industry that was meant for families and entry-level, so we were really the first one in the country to be focused on that aspect of Obstacle Racing
What moment made you decide that you could start your own company? 
I was at warrior dash in 2011, and I knew that I had a good local following because I owned a gym and trained thousands of athletes and clients. plus, I had already built an event company before; I was the co-founder of the National Underclassmen Combine
So, Your First Mud Run was born. Why for "first-timers"? Why did you choose that market? – explained in the previous comments and the document
What were some of the earliest difficulties you had, and how did you overcome them? 
By far, the biggest difficulty was finances; I started with a budget of exactly 0 dollars. Then the biggest obstacle was finding the right marketing and promotions, especially on a small budget in the next few years. Now it continues to be finding proper marketing because most of the avenues, as you probably know, stink. Google is way too expensive, Facebook doesn't work anymore, and most of the listing companies like Mud Run Guide have gone defunct
Fundraising and charity are a big part of Your First Mud Run. Tell me how that started and how charity is important to the many groups you work with? –
That'ss also explained in the document. It's always been important to me to help people. I always wanted to do something that I liked, that was financially successful, but most importantly, that helped others.
The pandemic stopped the obstacle racing world. How did it affect your return, and how has this past year been for you?
it completely killed us in 2020; we almost sank, but in 2021 it was actually our best year ever in terms of average attendance, but we were only able to pull off four events because some of the states were still leery about large groups. But the fact that we had over 500 on average per event allowed us to expand it out to 10 events this year in the 6 states
How does the rest of 2022 look for you, and how do you see your future?
2022 looks good so far. We need to keep our fingers crossed because you never know. We recently bought a 20-foot box truck, so now we are able to expand the entire East Coast. The goal is to get another truck with a separate set of equipment on the West Coast within two years and hopefully the Midwest within two years after that. So hope would be to be able to run about 10 events in each region, giving us a total of 30 or so per year
You do not only do public OCRs. You do private businesses, events, and the like. How did that start, and can you give examples of some of the events you have been asked to work at?
yeah, it just turned out that everyone kept asking me to bring my event literally everywhere. We've had requests from Europe and Canada, and everywhere you can imagine. So we just figured we would make a corporate event division and host a few of them per year to supplement our main races. At this point, we are the only company that I know of in the entire country that will bring an OCR event to you.
What do you do when you are not creating events for families?
I own an athlete training business in New Jersey and Florida www.Ultimate-Track.com, I own the www.rocksteadybergencounty.com program in New Jersey, and I help train athletes out of a few local businesses here in Naples Florida one is called eat the frog, the other is called Athletic Republic, and I am the head track coach at the Village school in Naples. In my free time, I compete in about eight spartan races / savage races per year, and we live nine months a year in Naples, Florida, and three months per year in North Wildwood, New Jersey.
As a Race Director for YFMR, what have the reactions that stick with you the most? Watching kids and their parents complete a race must be a great watch. What are some of your favorite moments?
what I love most about starting this company is seeing how much fun everyone has. 99% of the people have a blast and enjoy a great bonding day with their parents, siblings, and friends! we have made over 20,000 people happy at least for a day over the last 10 years, and for many, it was literally life-changing; our little event got them back into fitness and or into the sport of OCR!
How It All Started
It all started about 25 years ago when the founder, Brad Vaccaro, was in college awasn'tn't sure what he was going to do with his life. So at a crossroads, he happened to hear about a significant called"d "exercise science" " Since he loved sports and could see himself being involved with fitness and athletes his whole life, he sunk all his time into getting that degree. While in school, his father became sick and died of cancer. Just one year earlier, at the age of 58, his father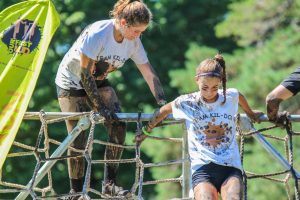 celebrated 30 years at his job and was unceremoniously being pushed out to make room for the new generation. Rich Vaccaro devoted his whole life to a job that he never truly loved and never loved him back. So at the age of 59, he died a broken man who was never motivated to be healthy and was never fulfilled with what he accomplished in his life. At that point, Brad decided that that would not be his fate, that his life would have meaning and could hopefully bring some other sense to his father's life. The only problem was what he would do to substantiate tha" "meanin" Then, after graduating college, he became a personal trainer at a local gym and worked part-time at a large chain hardware store. At both jobs, he saw how all of the people he worked with were living lives of quiet desperation. They were all financially strapped and all complained about the government, society, and how the system was so unfair, but it seemed like none of them tried to do anything about it. They just went about the"daily grind" So, at this point, he was still uncertain as to exactly how he would make a difference but decided right than that to do anything positive on the large scale he hoped, he'd have to become "financially successful" and, even more importantly, would have to have some ability to effect change on a large scale through connections, getting to know thousands of people across the country and owning a business that had an impact on the community. That opportunity came in 2004; when working at a small gym in Ridgewood, NJ, he was able to open his 1st gym with a partner in Wyckoff, NJ. While running this gym, he could co-found what has become the largest football combine company in the USA. This started to give him many of the connections he needed to fulfill his dream, but since he was not the sole owner, he couldn't take the business in the "change the world for the better" direction he wanted.
Then, in early 2009 two things happened that set up the path of change. First, he split the two businesses with his former partner and took over total control of the gym business, which would become the Sports Conditioning Institute in Northern NJ. Then he immediately started to look for opportunities to effect change, work with charities and do positive work in the community. He looked into the first opportunity he saw, which was the Family Reach 5k in Mahwah, NJ. There, among all the volunteers and founders of this organization, he found it! From then on, everything that his business would do, if possible, would be done in part to help some important charitable cause! He was so impressed with the incredible selflessness of everyone involved in the family reach 5k that by the next year, he was a board member.
In early 2011 While he was still searching for "something bigger," his girlfriend had competed in a large and successful mud run, Warrior Dash. He did the math on the possibility of big financial success in a new but exciting industry, "Mud Runs." At this point, there were only a few companies, and only a small percentage of the population even knew what a mud run was, let alone actually competed in one. Still, it was extremely obvious to him that this was the future of event-based activities and would soon be as big as 5K races and marathons. This was a great risk and a truly daunting task as he obviously had no experience in these types of events and was currently embroiled in a very difficult situation with his current landlord, who is actively trying take his athlete training business out from under him, so finances were incredibly tight, but still, the opportunity was too great, and he had to find a way to pull it off.
So the next business opportunity that presented itself was when he founded Your First Mud Run, www.YourFirstMudRun.com. (at the time, it was called the Ultimate Run.) When he decided to run this race as the first race of its kind in North Jersey, he didn't know if he'd get anyone to come, let alone enough to actually make a profit, but immediately decided that 20% was going to go to 2 charities no matter what. So the first event was created and marketed on a budget of literally $0, and was only possible through creativeness and sheer will. When the race was only 1 week away, there were only 30 people registered, which meant a definite financial loss, but everyone involved hung in; and 2 days before the race, there was only about 45, which was still a loss, but then something great happened, when the night before the event 40 people registered online, and 40 more walked up the day of the event. This allowed Your First Mud Run to give almost $1,000 to the Family Reach Foundation and My Charity for Kids. Since that point, Your First Mud Run has hosted over 50 events in 6 states across the northeast, and we have donated over $35,000 to over 100 local charities through 2019.
The next opportunity is to partner with a great organization that has agreed to take the event national. We expect to have 6 regions across the country with a total of 18 – 20 events. This will finally make the dream of effecting true positive change on a truly national scale! This expansion is planned to begin in 2021!