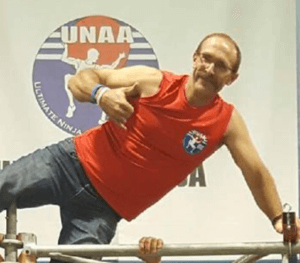 Bob Clark is the founder and CEO of Ultimate Ninja Athlete Ninja Association (UNAA).  The UNAA is a worldwide ninja association, with championships happening in Las Vegas in July.  We wanted to learn a little more about Bob, the start of UNAA, and what are his long-term plans.  We thank Bob for his time, and Bob Clark is the next to join us on "10 Questions with…"
(Note from Russ Blatt – OCR Buddy is a partner of World Obstacle, mentioned in our interview with Bob.)
How did you get introduced to ninja as a sport, and tell us about your feelings after your first few competitions?
My son and I used to watch Sasuke on G4.  Then it becomes Ninja Warrior.  And then American Ninja Warrior.   So I built a course in my backyard.  Then a gym opened in town, and my son and I started training and competing.   We really enjoyed both the training and competition,  but discovered it's much harder than it looks.
How/when did that turn into the thought…"Hey, I can start an association and league"?   
When I sent in my video application two years in a row to ANW and did not get picked.  I thought there really was no way for an athlete to compete Nationally.  So, I created UNAA.
So you started the UNAA, and you are now into the 7th season.  What have you been most proud of and what are your future goals?
The fact that it grew from 12 gyms and 126 at the first finals to 200 gyms and over 1000 at Finals.  ( and expanded World Wide)
This year, you also added the Ultimate OCR 3k to your resume.  How did that come about?   
We saw that the Kids classes were growing at a rapid pace, but the Adult category not as much.   We realize being involved with World Obstacle how popular OCR is and thought we need to be part of that so the Adults can be more involved.   So now we will have many parents do the Ultimate OCR 3K,  while the kids compete at UNAA Finals.
UNAA is the ninja partner for World Obstacle.  How did you get involved with World Obstacle and what are the long-term goals of UNAA with this partnership? 
I reached out to the Olympic committee to see what it would take to get Ninja into the Olympics.    They forwarded me to GAISF.   They sent me the New Sport Application for Olympic inclusion.   I filled it out (all 45 pages) and sent it in.   I received and email back stating they received it, but before consideration,  I had to submit a nonrefundable $4000.    Then I called them, and they explained that it can take up to 8 to 12 years to get a sport into the Olympics.    But they suggested if I did not want to spend $4000, that I should speak with Ian Adamson at World OCR (now World Obstacle).   So, I did after many emails and discussions Ian agreed to make UNAA the official ninja league of World Obstacle/FISO.
Now, let's learn a little about the man behind UNAA. What do you do when you are not running ninja competitions around the world? 
I work full time at a TV Station in Advertising Sales and run a Local Ninja Gym.
What do you do for fun, to relax and when you just want to escape from the grind? 
I dont relax much,  Im kinda ADHD… haha.    My favorite things to do to unwind is Motocross,  Windsurfing , Skiing and of course Ninja.
What would surprise our readers to learn about you? 
I am an adrenaline junky.   I free fall off buildings into an airbag for fun.   When I ski,  I find the most intense runs I can find and I Love going fast on wheels, or skis or just free falling.
What is ahead for you in 2022 and beyond?  Where do you see the sport of ninja heading? 
Going for Olympics 2028!    Just keep it growing as a fun and entertaining sport and activity,  helping gyms to grow and add more across the country and world.
Open keyboard.  The floor is yours.  Tell us about July 24 and anything else you would like to add.
JULY 21-24 will be the largest Obstacle event in history.   With the UNAA World Series Finals with over 1100 athletes competing,  plus the World Ninja Athlete Games – a set course design for athletes to attempt to break New World Records from across the world.   Also the Ultimate OCR 3K Championships on Sunday.    To Top it all off,  we will have a 20ft Free Fall Jump area into an air bag,  just for fun and to get that Adrenaline rush!