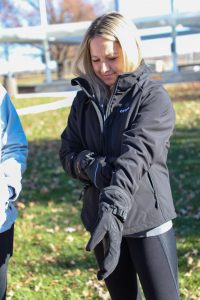 ORORO, the company known for provided great pre/post-race heated apparel and keeping my pit crew warm as I run around for 24+ hours at time (watch the OCR Everest 10 minute documentary).  Besides  having heated scarfs, vests, socks, seat warmers and jackets, they also have heated gloves.  I picked up a pair of their Buffalo Gloves to see how and if they fit into an OCR athlete's race kit: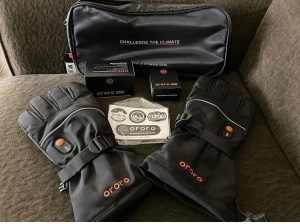 Fit:  I tend to wear a medium in everything, so I went with medium for the Buffalo gloves.  I thought they fit true to size so I was happy with my decision.  The gloves are bulky like ski gloves, but that also means they are warm, soft and comfortable.  The soft polyester inside is protected by a nylon wind and water resistant shell.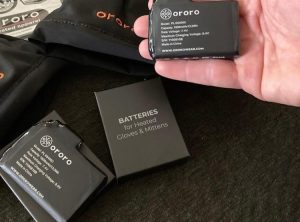 Heat:  The gloves are powered by two small batteries.  Of note, these are different from the main batteries used in the heated jackets and vests (read about ORORO's newest battery here).
Each glove has three different settings of heat.   I thought the warm was very warm when I used them this past winter.  I often turned them down even when playing outside in the snow with my kids in single digit temperatures.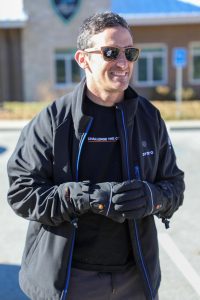 Use for OCR:  While these aren't the gloves I would take on the course (I would use BleggMits for that), these are the perfect gloves for pre/post-race as well as for in between laps on events like Toughest Mudder or World's Toughest Mudder.
They are also a great option for spouses, loved ones or friends that are coming to watch you race in cold conditions.  Plus, the touch screen compatible gloves means your loved ones don't have to take off their gloves to get some action photos of you racing.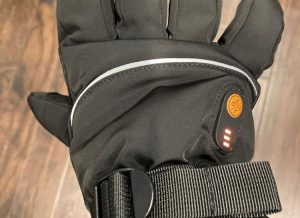 Buffalo vs. Other ORORO Gloves: I have not tried out the other ORORO gloves but based off a look online here's some of the differences.  The Amsterdam is their mitten version making it unique among the other ones. The Twin Cities are the most versatile providing a liner, main glove or main glove with a liner.  The Calgary is very similar to the Buffalo but the Calgary has 3M Thinsulate insulation and doesn't have the non-slip palm.  Buffalo does come in at the lowest price point of the four options at $149 making it a good choice for those picking up a pair of heated gloves for the first time.
Overall: The Buffalo gloves are great for what they are designed for.  They keep your hands warm when in an environment where your hands will get cold, wet or windy.  They are not designed for the full water immersion that is present in many OCRs, so would not be good for on course use.  Their best use, in my opinion, is a product you wear pre/post-race and then pass off to your pit crew while you are racing.  Buffalo gloves are not something you'll need on course but something that you'll glad you have in your race kit.