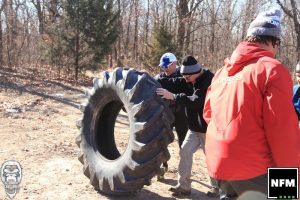 While most people may not think of Obstacle Course Racing (OCR) as fun for all ages, in my experience it has been.  Two years ago I took my daughter, a regular participant in Young Lions OCR, at the age of 5 on her first adult length OCR at KC Timber Challenge.  Since then she continues to run the kids event or sometimes even the main event at OCRs that we attend as a family.  That covers the young age of the spectrum, but what about the opposite end?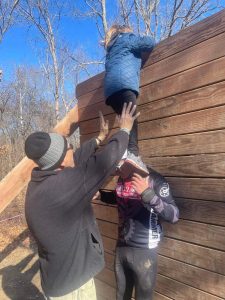 In the last year I asked my dad, aged 74, who has pit crewed for me at more than 10x 24 hour OCRs and a handful of other multi-day Ultra-OCR events I have run for charity, to run several OCRs.  He successfully complete KC Timber Challenge, Tough Mudder 5k and most recently KC Timber Challenge Yeti.  Here is some lessons learned and what the experience taught me: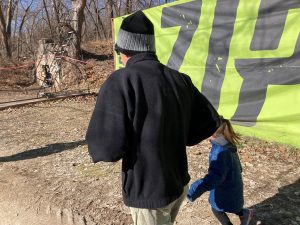 Pacing: This one actually went well for us and is a lesson for everyone. The excitement of the start line can get you amped up and means your first mile is way too fast.  Luckily, we took lots of opportunities to walk and used jogging for strategic moments like areas with good footing.  Normally running downhills is a technique people use but with the higher age it's not the best idea.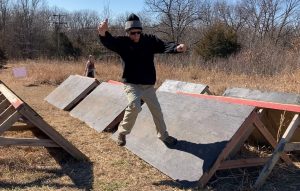 Practice Makes… "Better": The movements of OCR are not the typical movements for most people. However, even old dogs can learn new tricks.  When facing the quintuple steps, the first attempt didn't go super well.  However, we reset and did it a couple more times, eventually making it all the way across.  If the obstacle isn't too physically demanding you'll be surprised at how running through something multiple times can lead to quick improvement.  If you want to take advantage of this ahead of time going to a training location like Motus Ninjas in Kansas City.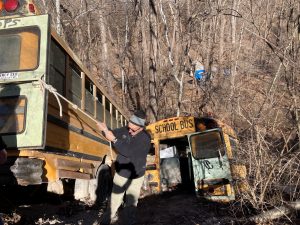 Fueling: I'm an endurance athlete so I'm used to running for hours and listening to my body. If you aren't, poor fueling may catch up to you faster than anticipated. While we weren't moving at a fast past, we were out on the course for several hours.  After learning the lesson with my daughter, I made sure to at least stop at every aid station for a drink.  I also brought gels/fruit snacks with me.  While your older athlete may not want them, a little bit of sugar can help give that burst of energy needed to get across a couple more obstacles.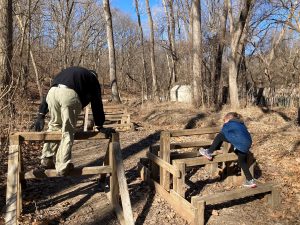 Time Catches Even Superheroes: Most of my memories of my dad are ingrained in my brain from childhood. Over the last 20 years, I haven't lived with my parents so I don't have as many memories of them aging, which means when I think of my dad's fitness level he's still the same as he was when I was a little kid.  What surprised me was going over a chest high hurdle was actually one of the harder obstacles for him due to shifting body weight, balance and rapidly swinging your legs over.  This was harder than some of the other physically more challenging ones we could use teamwork for.  Bottom line is thing may be more of a challenge for your aging athlete than you realize so pay attention and don't be hesitant to lend a helping hand or act as a spotter.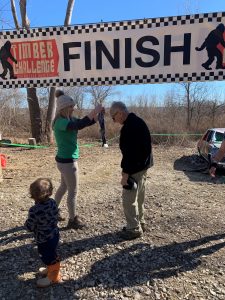 The Memories Will Always Be There: My dad is still in great health and my whole family is fortunate to be in this situation. However, time eventually catches all of us.  While we weren't out there setting any records I loved sharing something I'm passionate about with my family.  Furthermore, my daughter will always have memories of running OCR with grandpa and I'll always cherish the pictures of the three of us conquering the course together.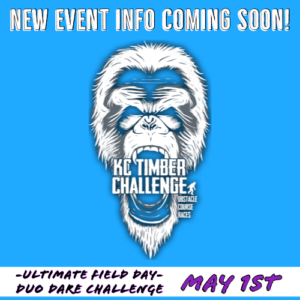 OCR is not typically thought of a sport for all ages, but brands like KC Timber Challenge have made it affordable with their low prices and doable.  While your older athlete may not be able to do all the obstacles, they have about 30 per course, they will be able to do a lot of them giving a higher percentage completed than many other OCRs.  KC Timber Challenge has already announced four more dates in 2022, come out and join in on the fun.
Sunday May 1st: Duo Dare Challenge (NEW EVENT!)
Sunday May 15th: 2 mile Family Timber Challenge
Sunday June 5th: Wild Women Timber Challenge (women only or men in drag)
Sunday June 12th: Wild Women Timber Challenge (women only or men in drag)
Sunday July 31st: 2 mile Family Timber Challenge
Plus, don't forget to check on OCR Buddy for the latest updates!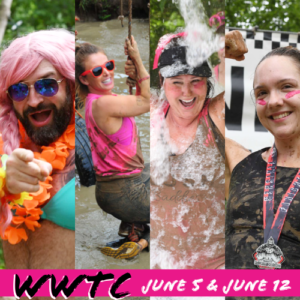 Plus, don't forget to check on OCR Buddy for the latest updates!