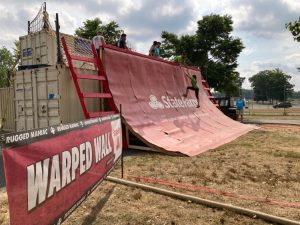 Rugged Maniac is a brand that has been around for a decade boasting the best party in Obstacle Course Racing (OCR).  I've been to their events all throughout the Midwest but I've never been to one of their events on the coast.  With a race near my extended family, I headed out to Englishtown, New Jersey (home of World's Toughest Mudder from 2011-2013) to check out Rugged Maniac.  Here's how it went: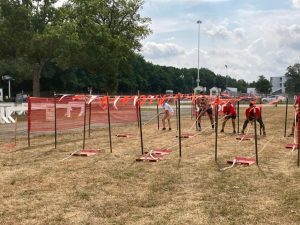 Use of Venue: I've run this venue several times for Tough Mudder but this was my first Rugged Maniac at Raceway Park New Jersey.  Rugged avoided the stadium (unlike Tough Mudder) and had parking, the course and all obstacles all in the same area.  Not better or worse, just different to someone who had been to the venue several times.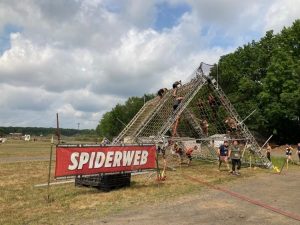 Terrain:  The course was flat and fast zipping through a mix of concrete, grass, trail and motocross track.  The motocross track was probably my favorite part of the terrain with short steep uphill runs followed by a rapid descent.  With very little technical terrain it was fun and quick with the winner covering the three miles in under 24 minutes.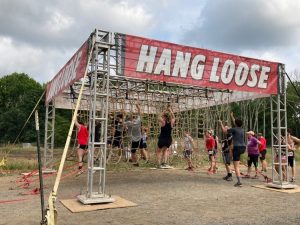 Obstacles:  Rugged Maniac brought most of their fan favorites to New Jersey including the warped wall, Barzan (swinging monkey bars), Off The Rails (mini-zip line), giant A frame cargo net and Hang Loose (sideways cargo net traverse).  The A frame cargo net doubled as a spider web obstacle underneath it showing good use of available resources.
Noticeably missing was Rugged Maniac's inflatable obstacles.  For me, this is one of the highlights and one of the aspects that make Rugged Maniac standout as a unique event among other OCR brands.  I love being completely reckless on the inflatable obstacles tossing my body around training to gain an extra second or two of speed.  While I didn't notice it mid-race, afterwards I was a little disappointed not seeing them on course including their famous giant inflatable slide at the finish.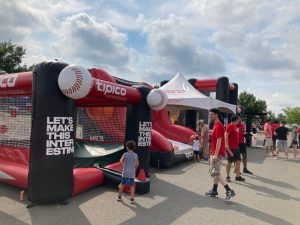 Festival, Atmosphere and Party:  If you are headed to a Rugged Maniac, of course you need to look for the party.  The festival was rocking with loud music, free Optimum Nutrition samples and a host of free games including football throw, cornhole, giant Jenga blocks, whiffle ball hit and basketball throw to name a few.  Add in the announcer on stage holding the usual string of contests including stein hoisting, pull-up and (one I've never seen before) donut eating.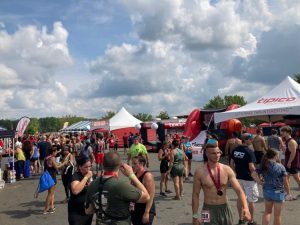 Overall:  While this wasn't my favorite Rugged Maniac event, it was unique and delivered to Rugged standards.  If your only exposure to Rugged Maniac was NJ, I would definitely hit up another one to get the full experience including all their fun inflatable obstacles.  For those who are more social the NJ event should be at the top of your list.  The crowd was massive and I think the best party atmosphere for any OCR.  I didn't get a count but I can't recall the last time I saw such a large crowd showing up to race.  In a post-2020 quarantine environment it was great to see people returning to OCR in such large numbers.  Great job Rugged, I'll be back.