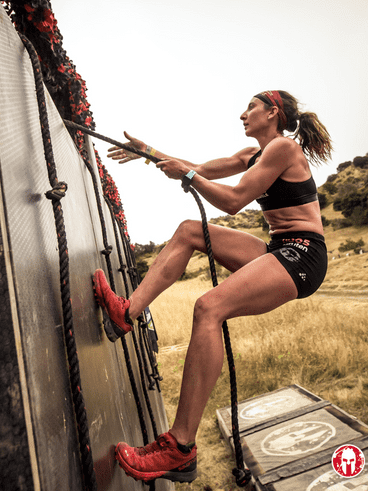 Nicole Mericle was on top of the obstacle racing world when she tore her ACL. While the injury stopped her on the course, she continued to inspire people with her training and progression during her rehabilitation. Showing people that being knocked down is not the end but a new beginning can be as important as the podiums. Nicole was gracious enough to join us on "10 Questions with…" and after these questions, we cannot wait to see what is in store for her.
Before anything else, how is the knee, and how is the recovery coming along?
Recovery from ACL surgery is long! I heard this from tons of people going in, but I don't think I truly believed it would be this long. Part of me thought I would recover faster since I am so diligent and I adapt well from training. Unfortunately, there's more that goes into the recovery process, so it hasn't been the speediest of recoveries. When you think about it, I've been recovering from two surgeries- the reconstruction of my ACL and the healing of where they took the graft from. My surgeon and I chose to take my graft from my quad tendon right above my kneecap. This is a newer procedure. In the end, the hope is that I will have less pain and dysfunction at my graft site, but in the short term, this actually makes the recovery process a little tougher and longer. For instance, I'm currently able to run up to 7 miles on flat ground; however downhill running is much more difficult since my quad is deficient.
So, the next big question, when could we expect to see you on a course again?
This is the big question everyone wants to know…including me! 🙂 I expect I will be ready to return to racing around May or June-at least in terms of running volume and ability to jump and land. Unfortunately (for me), all the major Spartan races left in the year are held on mountainous terrain, which means lots of steep descents. Bombing down a steep ski slope is very quad intensive and I forsee this taking longer for me to be fully prepared for. Because of this, you'll likely see me at a Savage Race or a flatter Spartan Race in May or June. As far as major races go, I think the Utah Spartan Race in July could be in the cards!
When the injury happened, you were one of the top athletes in the sport. What are you doing while rehabbing the knee to train to maintain that edge?
I have 20 years of running fitness behind me. That doesn't just go away. Knowing this would be a long recovery and keeping healing as my first priority, I welcomed a little down time and embraced detraining. A true off season is hard to find in OCR, so I chose to see this extended break as an opportunity to truly rest and reset. For the first 5 months after surgery, I was in the pool daily, but there were no epic workouts going on. The intention was to move, feel good, and support recovery, not to build or even maintain a high level of fitness. At first, I was only allowed to pull with my arms. No kicking. One of the reasons I chose to focus on swimming is because water pressure is amazing for reducing inflammation and increasing mobility! I added in some biking as soon as I was allowed, but the bike makes my body feel tighter and worse in a lot of ways. Besides that, I incorporated more pull up and hangboarding workouts early on. I also started climbing as soon as I was allowed to–at 4 months post-op. All of my obstacle preparation comes from climbing, so I knew I wouldn't skip a beat there. I'm back to climbing at the level I was beforehand, so I could step on a course tomorrow and feel very confident. The main thing now is building my aerobic fitness back up and strengthening my knee. I have no doubt that this injury will make me better in the end. I expect to come out of this with improved movement patterns and more athletic all around.
Just before the pandemic started, you began OCR Dream Team. The purpose, as I understand it, is to help promote women in the sport of OCR and to help empower women to be confident in the sport of OCR. What led you to start OCR Dream Team, and what is your vision?
The OCR Dream Team is an elite development team for women in OCR. The goal is to provide more opportunity for women and inspire athletes to reach their potential. We execute this by identifying and fostering up-and-coming athletes in the sport, providing them with everything an athlete could possibly need for success including financial aid, mentoring, coaching, mental performance coaching, nutrition counseling, regular blood testing, and a bunch of gear. The idea came about, in part, after seeing so many promising and talented women leave the sport prematurely. Their reasons varied, but the overall sentiment was the same- there's so many variables in OCR and it can be overwhelming to figure them all out. The other main driving force was the undeniable fact that support and recognition on the women's side was lacking. From sponsorships to media time, women receive less support and recognition in OCR. I hope to change this by investing my time, resources, and connections into women's OCR. While I see myself having the most impact on developing elite athletes, my hope is that women's participation will increase at all levels in the sport and that women will grow in confidence because of the sport and the culture that is OCR. Elevate Women's OCR is a community group that I helped start simultaneously to support this mission. Dr. Lara Pence, Leah Snider, and many other women in the sport have been critical to establishing this organization as well.
How does the 2022 OCR Dream Team fit into your vision, and how are they helping you promote the vision described above?
The Dream Team athletes were selected based on their athletic potential, but we also looked for athletes who would be equally committed to elevating women in sport and act as positive leaders in the sport. Fittingly, all the women on the team are incredible competitors and encouragers. The team culture is amazing and I am constantly impressed by their willingness to help others, to be team players, and to contribute to the overall mission of elevating women.
Through OCR Dream Team, you also started Elevate OCR. Same question. What led to its formation, and what is your vision?
Elevate OCR is a women's community group. I envision this to be very community-driven and as such I think we're still figuring out how best to serve the community. We've done a lot over the last year including youtube talks, in person meet ups, book clubs, a pull up challenge, workshops and community zoom chats. The aim now is to narrow in on what women really value and need from Elevate. The overall goal is to create a supportive community and provide resources to women in OCR so that all women can feel confident and empowered to reach their goals. I understand it's necessary for me to lead many of these initiatives to start, but I really don't want to be the face of Elevate as it should be a community-led organization. It's funny, I think a lot of people also don't realize how doing things like this puts me out of my comfort zone. Public speaking and this kind of attention is so not my thing, but I'm trying because I want to make a difference for women in OCR!
How did you find obstacle racing, and when did you realize your potential and ability in the sport?
I pretty much stumbled into OCR. I've been a competitive runner almost my whole life and realized early on in high school that I would get a full scholarship to any college I wanted to run at. I never thought of it as being disciplined, it was more of an obsession. My whole life revolved around running. I loved training and I loved competing. I was offered full scholarships, and I chose to run for Rice University in Texas. I found success in college, but sustained injuries shortly after that led me to a long list of doctors before I finally stepped away from running in 2014. It was heartbreaking not knowing how to fix my body or if I'd ever compete again. Around the same time I found an equal passion in rock climbing and that certainly took my mind off the hiatus from running. Finally, I started running on trails, which my body seemed to tolerate better. A friend of a friend suggested I try OCR, given my running and climbing background. At first I laughed the suggestion off. I pictured people dressed up in tutus rolling around in the mud. I had no idea there was a competitive scene with athletes who seriously trained for race day. Finally, Drew Rossi convinced me to try it and signed me up for my first race- Spartan Race Colorado Springs 2016. I finished 3rd behind Faye Stenning and KK Paul Stewart and realized this was my ticket back to competing. I had just started running again after taking almost 3 years off due to injury, but I immediately knew Drew was right- my running and climbing background very nearly prepared me for OCR. The only thing I was missing was a bit of strength. The heavy carries absolutely crushed me. It took a solid couple of years for me to figure out how to train for them. After I gained a bit of muscle and adjusted my training, I felt as though I had no weakness in the sport. Those first couple years of racing I had wildly inconsistent results, but I was just so happy to be competing again that I was determined to stick with the sport and figure it all out.
What advice do you have to athletes getting started in the sport and realizing their potential? How can they get to the next step?
You have to stick with it. OCR has so many different aspects to master and it can get frustrating. Just when you think you've figured an obstacle out, cold and wet weather can derail you. Maybe you chose the wrong gear or don't have your nutrition dialed. It can seem like an endless list of things, but you can do it. Like anything, it takes consistent work, trial and error, and a commitment to being a student of the sport. Luckily, there's a lot of good information out there and so many people are willing to help.
Outside of obstacle racing and training, what do you do for fun, and what do you do to relax?
I'm very social and like playing games with friends, taking dancing classes, and going out to dinner. A lot of my time centers around climbing- I've been to Columbia, Thailand, Greece twice, and Spain for climbing trips, and of course a lot of places in the US as well.
What would surprise us to learn about you?
I planned and installed all of the electric in my conversion van. Even more surprisingly, nothing has broken yet 😉
Previous edition: 10 Questions with Leon Kofoed