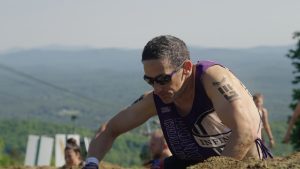 Recently I ran my 7th self created Obstacle Course Racing (OCR) charity event called OCR Everest (watch the full 10 minute professional produced documentary here).  The plan was simple, climb the height of Everest and do obstacles while at the venue of Tough Mudder New England in Stratton Vermont (same location as OCR World Championships 2021/2022).  This marks the conclusion of a seven year journey of events where you have helped me raise more than $26,000 for veteran related charities, which started at Tough Mudder New England in 2016 with OCR America (read about it here in my book: Ultra-OCR Man: From Special Forces Soldier to Record Setting OCR Athlete).  If you are going to subject yourself t0 28 hours of consistent movement, you want the right gear so here's what I used from head to toe: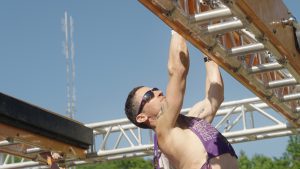 Sunglasses:  If I'm racing fast I tend to go with Goodrs because they are no bounce and not very expensive so if I lose them it is no big deal.  I still default to Goodrs for race day but since I was taking things slower this time I rocked my more expensive Infinite Hero Foundation branded Oakelys.  They are pricey but if you buy a pair a portion goes directly to Infinite Hero Foundation.  They performed perfectly…as they should based off their price point.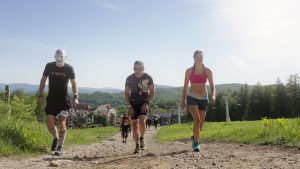 Upper Body:  During the day I raced shirtless but with a Tough Mudder bib on to represent Infinite Hero making me easily identifiable on the course (plus put some of my favorite brands patches on there like Race Ready Obstacles and Tiga Tactics).
As it got colder I added Hammer Nutrition cycling jackets to my top to keep me warm.  The pockets in the back are great for storing food, glove or a hat.  When my pace slowed or it got really chilly I also utilized a Tough Mudder wool hat that I picked up at the merch tent and my Ororo Heated Jacket when resting between ascents.  I kept the hands warm using BleggMit Lytes, which kept them toasty without overheating.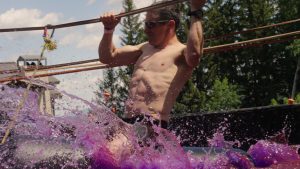 Stomach:  To perform well and consistently you need to fuel correctly.  I used the same strategy I use for all my Ultra-OCRs, Hammer Nutrition.  I primarily consumed liquid fuel for the 28 hours consisting of Perpetuem (fat/carb/protein blend) and Heed (carb/electrolytes).  I also added in their electrolyte pills (Endurolytes Extreme), lactic acid buffering pills (Anti-Fatigue Caps) and some gels.  As I fatigued in the night I supplemented with caffeine sometimes via gel and sometimes via drink.  I added in a couple of bites of solid food after around 3am consisting of Red Vines then ate a breakfast sandwich as the sun rose.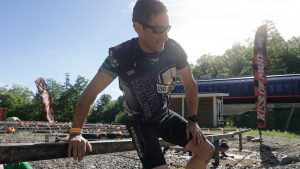 Lower Body: To keep moving you need to be comfortable so it was Squirrel's Nut Butter for between the legs.  28 hours of movement and zero chaffing…if you want something that works, their brand is built by athletes for athletes regardless of what you are doing.  Ever since switching to them I have never had a chaffing problem.  I didn't reapply at any point, just put it on before I started.
For my shots I used Hammer Nutrition tri shorts for the daytime laps of Tough Mudder.  Then at night I changed into dry shorts, MudGear's brand new compression.  Wearing shorts you've only worn once before race day on an event like this is not a recommended course of action.  You should always test your gear extensively especially for endurance.  However, I had such confidence in MudGear's apparel, that I risked it and it paid off.  They were soft, comfortable and great, check back here later for a full review on them.
Feet: Socks…is it even a question at this point?  MudGear…100%.  Wore long compression during the day of their USA socks and ¼ length ones for the rest of the event.  Zero blisters, zero problems and they are still in good shape.
Descending and climbing a steep mountain like Stratton requires good traction, so I went with #thebestgripontheplanet as my shoe choice.  I used VJ Shoes Ultra for the day time during Day 1 and the VJ Shoes MAXx for the day time during Day 2.  At night we were using the road to gain ascent elevation so I didn't want to wear out the treads on my VJs so I used Merrell's All Out Crush, which still have decent traction and are light weight enough with enough cushioning for my personal comfort.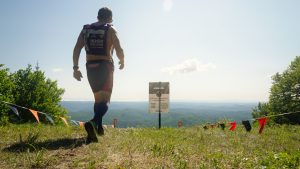 Post-Race:  Post race I changed into the most comfortable clothes I own, HYLETE pants and a hoodie using my new Tough Mudder t-shirt as a base, which said "Life begins at the end of your comfort zone."  To kick start recovery I took some Yolked and washed it down with some Hammer Nutrition Recoverite.  Then tried to get some solid food in as soon as my stomach felt good enough to eat.  I spent the rest of the day walking around in OOFOS recovery sandals that absorb 37% of impact compared to traditional running shoe foam.  If you want a physical product to make your feet feel better after a race and you don't own OOFOS, you are missing out.  I seriously can't recommend them enough.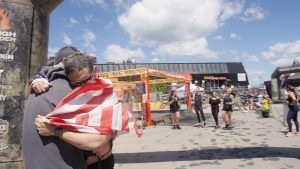 Overall, the gear choices were on point.  I wouldn't change a thing if I had to do this challenge again.  When it comes to extreme endurance I recommend using trusted brands.  They've already been tested by hundreds of athletes and shown to work well.  However, I would still be sure to test your gear ahead of time because everyone's body type, taste/stomach preference and foot shape is a little different so you want to be sure your gear works well for you.
If you haven't done so already, please donate to Infinite Hero Foundation via this link.  They provide support, both mental and physical, to our returning veterans.  A great charity, a great cause and OCR Everest was a great event…especially since I'm sitting here typing this instead of climbing a mountain.
Photos provided by Bobby Ross check out his website here and hire him for your next film, music video or other event if you want the best quality content (of note, photo quality was reduced for uploading for this article)