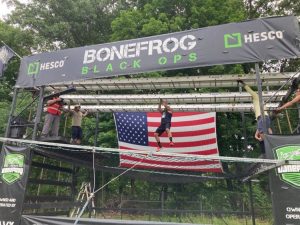 BONEFROG, the world's only US Navy SEAL inspired Obstacle Course Race (OCR), has been around for years.  Despite being a mainstay of the industry they recently announced they were canceling all their 2022 events but two (Massachusetts and New Jersey).  Worried I might miss my only chance to run a BONEFROG, I booked a last minute flight and headed out to their New Jersey event.  Here's how it went and if they phoned it in for the last (?) BONEFROG OCR ever: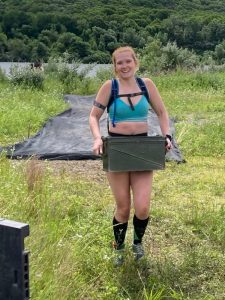 Terrain:  The course was run through a mix of fields, a small section of concrete, some tall grass and sections of trail.  It provided good variation with almost no elevation gain.  One section of the course looped back on itself repeatedly and had me wondering what was going on.  A look at the course map showed that we actually made a trident on our route…a pretty cool surprise I found out later.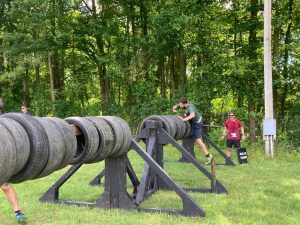 Since it was Navy SEAL inspired I figured there would be a lot of water but there was none even though we ran near several bodies of water.  I heard it was due to the course and restrictions put on by conservationists in the area.  While this may seem off brand for a BONEFROG, the actual Navy SEAL o-course in Coronado that SEAL trainees go through doesn't have any water on it.  Whether there is water on the course or not, I think both can be viewed as "on brand" for their events.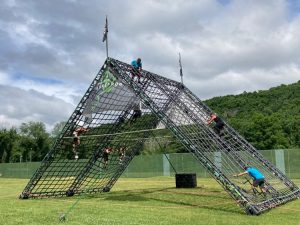 Race Formats:  If you want options, BONEFROG has you covered.  The course was 3 miles long with around 20 obstacles.  All categories had both an elite option and an open option.  You could run the Sprint (3 miles, 1 lap), Challenge (6 miles, 2 laps) or Trident (9 miles, 3 laps).  Noticeably missing from previous years was the endurance option.  However, they did have a trail option, which was essentially running the course without doing the obstacles.  Only improve I have here is that the trail runners should have something that can allow them to be identified easier.  While I didn't see any cheating, there is a potential for someone to run by the obstacles claiming they were a trail runner at the time only to "finish" as an OCR competitor.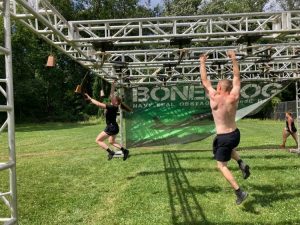 I signed up for the Trident (due to its obnoxious medal, more on that later) while I thought I wasn't going to enjoy the multi-lap format, I actually loved it.  The three laps meant we got to do each of their obstacles three times making the course obstacle dense.  We run OCR primarily for the obstacles, so the fact I got to do each one three times made it a lot of fun.
The mandatory completion wristband was enormous, which seemed odd at first but I actually like it.  This makes it very hard to hide your bracelet and easy to identify people running the elite wave.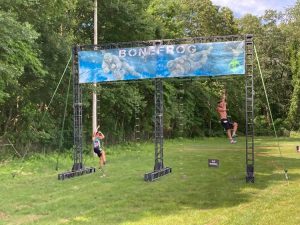 Obstacles:  With news of this possibly being the last BONEFROG ever, expectations were low.  If you are going to cut costs, obstacles is often where it happens.  That being said, the obstacles were great!  Included in the lineup were Black Ops (the epic monkey bars with the huge American flag), Mike & Murph (rig), a low rig, Punisher (a hoist obstacle we did 4x per lap as we made our Trident shape in the field) and Chopper (rotating X bars).  Add in some classics like ammo can carry/low crawl, anchor drag, sandbag carry with an Irish table mid-carry, balance beam, inverted ladder and a mix of walls to help round things out.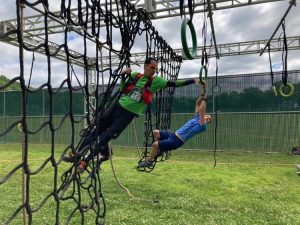 Going in the only obstacle I thought would be lame actually turned out to be one of my favorites, Red Wings.  You ended up doing 19 dips, 31 burpees and 7 pull-ups as an obstacle.  At first glance this seems like a cheap way of tiring participants until you realize each one represents a fallen soldier and you count by saying their names out loud.  As a Special Operations veteran myself, I loved this so much it actually made me forgot how stupid I think burpees are (that's something nothing else has ever done before).  If you read military books you'll also recognize a lot of the names from books like Not a Good Day Today and Lone Survivor, which made the names feel more personal to me.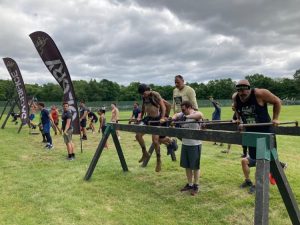 Medals & Festival:  BONEFROG's medals are next level.  The challenge and sprint medals are nice but the trident is ridiculous.  The trident medal by itself is large but it allows you to hang both the sprint and challenge medals underneath.  I've done more than 100x OCRs and this is easily the largest and most ostentatious medal I own…it's awesome.  If you ran the trail variant, your medal was wooden, which was a cool and unique twist on things.  The festival had about five different vendors, a DJ, a merchandise shop and a food truck in a field.  Not too big and not too small providing a nice atmosphere to spend time in after the race.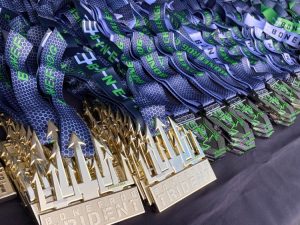 Overall:  This was my first BONEFROG and I'm hoping will not be my last.  While their future remains still in limbo, the owner, Brian Carney said they plan on taking a break and hopefully returning in 2023.  Unsure if it will return in the same format or something different, their race is a great one that I should have mixed into my race calendar years ago.  I had a great time, hope to see BONEFROG back out in 2023 and beyond helping change lives in our sport.